ST. LOUIS — Check me out. A dateline. You know that means things are getting real.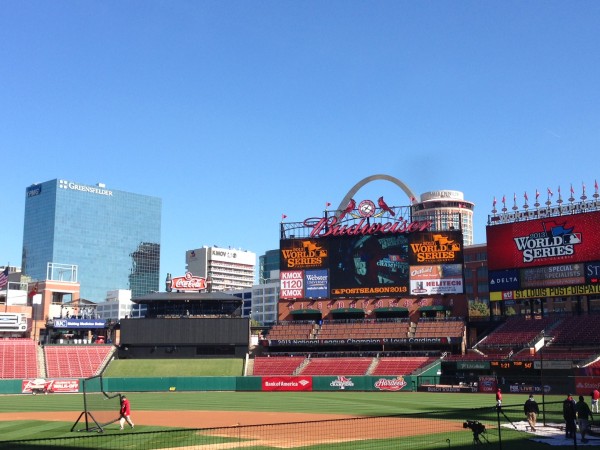 Greetings from St. Louis, where the World Series is pausing for one day before Games 3, 4 and 5 go down. Today is a workout day for the Cards and Sox. As I write this from the auxiliary press box down the right field line the Cardinals are taking infield, BP and long-tossing as the most eclectic mix of music blasts from the speakers. We've gone from Material Issue to Robin Thicke to the Rolling Stones. I don't know about their fans, but I'll say the Cardinals have an argument for The Best Music Guys in Baseball. They program workout music the right way.
In a little while the managers and Game 3 starters will be available for interviews. In the meantime I'm wandering, both the city and the ballpark. When I got to town I met up with HBT's own Drew Silva. I've worked with the lad for four and a half years but this was the first time I met him in person. We met near where he lives, a neighborhood called The Hill. Which is far more famous for being the boyhood home of both Yogi Berra and Joe Garagiola. I'm not sure if Joe got a park named after him, but Yogi did: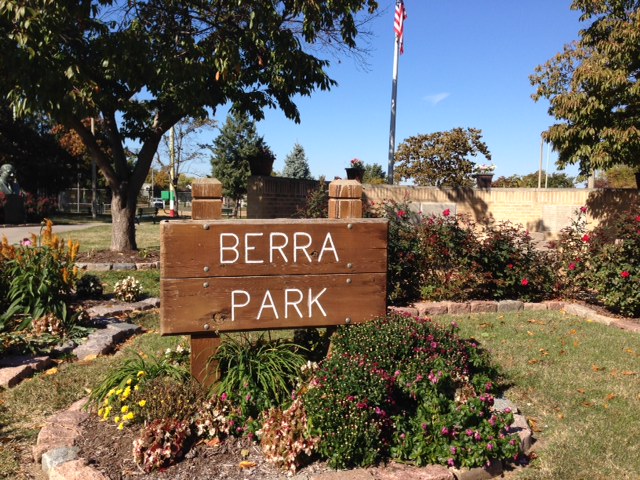 No one goes there anymore, though. It's too popular.
Across the street from that park is a great sandwich place called Gioia's Deli. It's known as "the home of the hot salami," so naturally Drew and I met there. We're all about cured meats. Drew suggested the Hill Supreme, which is an off-menu thing. Lots of salami and peppers and stuff. How was it Drew?
I'll take that as a "good."
On to the park, where I hung around the team store and walked around the grounds.  The Cardinals have lots of statues of former greats. No Mark McGwire on the grounds, of course, even though the statue has been made and is sitting in a warehouse someplace. They also don't have an Andy Benes statue. It's like they just hate their history or something. Of course there's this guy: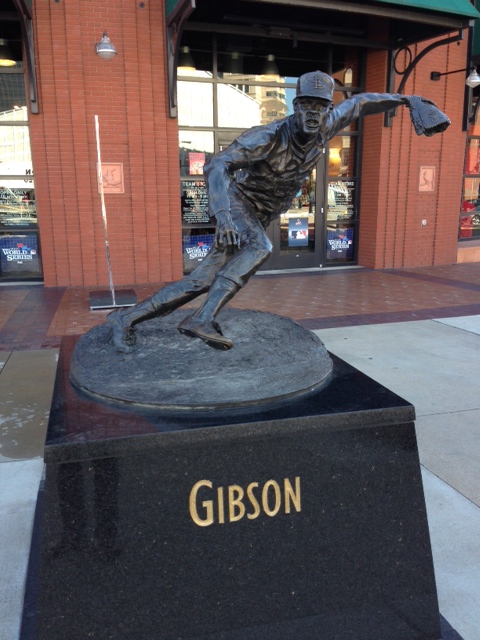 You know, if a pigeon pooped on that statue, it'd come to life, chase him around and tackle him. That's the way they did it back in his day.
I ducked into the team store, where I saw the most terrifying thing ever. This is suspended from the ceiling: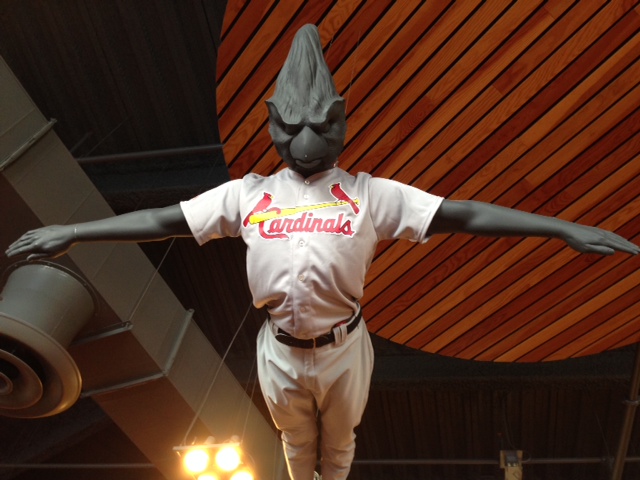 Where is your god now? It's like a scene cut from the "Flash Gordon" movie except without any sweet jams from Queen in the background. Pure nightmare fuel.  After that I needed a palate cleanser: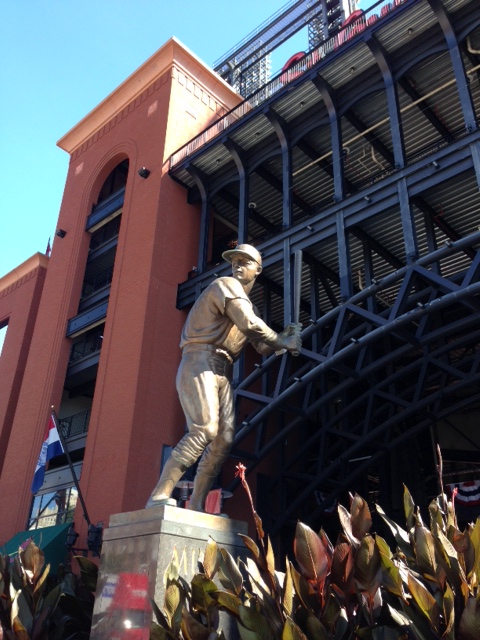 Ahhh. Much better. Thank you, Stan.
Into the park and watching some warmups where I was happy to run into Jonny Miller of WBZ radio in Boston, who will be in the next suite over from me here in St. Louis. Miller, longtime readers will recall, once thought I was pathetic because I messed up his scorecard down at a spring training game in Fort Myers. I reminded him of that. He didn't remember. Then I told him it was the day Nomar Garciaparra announced his retirement. Then it clicked. "Ah, I didn't care," he told me today. "You should know how to keep score better, though.  You're a baseball writer for crying out loud."  Yes, sir.  I really love that guy.
Anyway, off to listen to managers spout cliches. Should be fun.  Be sure to keep checking back to HBT all weekend as I report from St. Louis and Games 3, 4 and 5!