Cardinals manager Mike Matheny announced in his postgame press conference that Carlos Beltran underwent X-rays and a CT scan at a local Boston hospital after banging his rib cage on the short right field wall at Fenway Park on Wednesday evening. The tests came up negative and the Cardinals will leave Beltran's health status as "day-to-day" heading into the morning of World Series Game 2.
Jon Jay entered to play center field and Shane Robinson shifted over to right field in Game 1 on Wednesday. That's a significant drop-off in offense from Beltran, who by now is a postseason legend.
Here's another look at the home run-robbing catch that led to Beltran's rib contusion: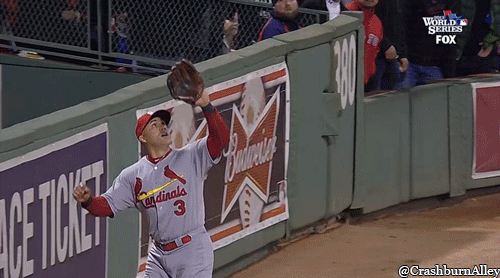 It looks like his elbow absorbs the bulk of the padding and his rib cage lands flush along the top of the wall.
The Red Sox won World Series Game 1 on Wednesday by a score of 8-1. Game 2 is on Thursday night.