Well, not just Chief Wahoo. Lots of things. But Wahoo is in there.
Via my friend Monte the Color Man, the Indians are sending out surveys to people who have purchased tickets through their website or who are otherwise registered there, and it covers all manner of topics. In-game experience, uniform styles and expectations about the Indians' future.
But there are a couple of questions in the middle that piqued my interest: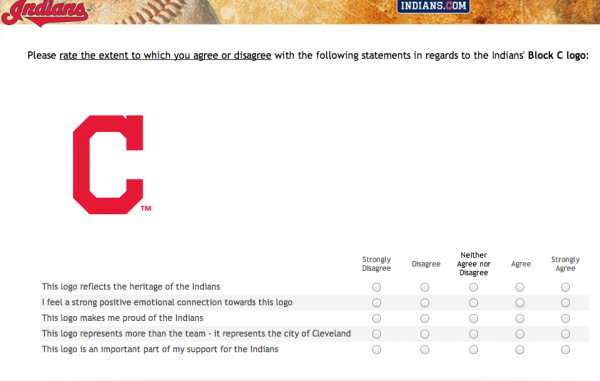 The Indians have said directly that they are not considering any changes in the logo and that they're not moving to marginalize the Chief Wahoo logo.  But they are interested in fan sentiment on the matter, so that's interesting.
Of course, the issue here isn't whether Chief Wahoo is popular. He is. The issue is that, popularity be damned, he's offensive, so I would hope that the Indians would make a decision to eliminate the logo out of simple decency, not because of some poll results.
Not that the poll results will inspire them to do it, I'll bet. After all, the Wahoo logo's popularity comes by virtue of fans who are attached to it out of nostalgia and team dedication. Thus, by sampling opinion of people who seek out Indians tickets and/or merchandise in the first place, it'll probably skew towards favoring the ugly thing.