Boston leads Game 1 of the World Series 5-0 after just two innings, but it could have been even worse for the visiting Cardinals. Watch as St. Louis right fielder Carlos Beltran robs Red Sox designated hitter David Ortiz of a grand slam with one out in the bottom of the second (courtesy of HBT's own Bill Baer):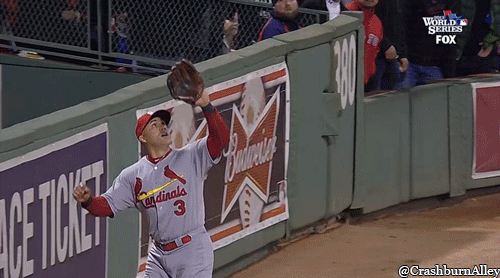 The craziest thing about that home run-robbing catch is that Beltran's elbow and torso hit the right-field wall well before the ball even fell. The 36-year-old was apparently injured on impact, as Jon Jay entered to play center field and Shane Robinson slid over to right field to open the bottom of the third inning.
The man on third base — David Ross — of course scored easily, giving the Red Sox their fifth run.
**********************
UPDATE, 9:22 p.m. ET: According to the Cardinals' official Twitter feed, Beltran has a rib contusion.
UPDATE, 10:26 p.m. ET: Beltran has been taken to a local hospital in Boston to undergo tests.