I have a cold and feel like crap and last night's Braves-Dodgers game was not exactly a big bowl of chicken soup on top of it. So it's probably not surprising that I went to bed somewhat grumpy, resigned to the fact that Freddy Garcia is all that stands in between the present and the Braves' elimination. And of course, this wasn't a recipe for a good night's sleep, so I was up at 3:53 AM. Here's what happens on Twitter at that hour when you find yourself in my frame a mind with some cold medicine added on top:
Annual autumn cold has me up at 3:53 AM desperately parsing Freddy Garcia's stats for a sliver of hope. None found. Reach for tea, whimper.

— Craig Calcaterra (@craigcalcaterra) October 7, 2013
I'd feel better if I didn't think Fredi Gonzalez didn't just look at his ERA in 27 innings and think "yup, that's my guy. Look at his ERA!"

— Craig Calcaterra (@craigcalcaterra) October 7, 2013
Wouldn't make me feel like they have a better chance. It's more of a preference for "peace in the face of doom" stance over sheer ignorance.

— Craig Calcaterra (@craigcalcaterra) October 7, 2013
Hark! An actual major league baseball player is up too and tries to help:
@craigcalcaterra http://t.co/SLnVjF7zWY scroll to 'postseason pitching'. You're welcome.

— Brandon McCarthy (@BMcCarthy32) October 7, 2013
It's not nothing I guess. Though I'd probably feel better if the best of his playoff performances hadn't been pre-9/11, but you do what you can. What else do people got?
@craigcalcaterra Here's your hope: It's baseball. Weird s**t happens.

— The Goog (@GoogTheGoog) October 7, 2013
Again: true. Though how much weird stuff can really happen when, even if Freddy comes through, you gotta find a way to win again on Wednesday. That really sends the mind reeling:
Three-hit Freddy Garcia shutout followed by a ten-spot off Kershaw Wednesday. Then the noose snaps a la "Occurrence at Owl Creek Bridge."

— Craig Calcaterra (@craigcalcaterra) October 7, 2013
"If I could free my hands," he thought, "I might throw off the noose and spring into the stream. By diving I could evade the bullets and, swimming vigorously, reach the bank, take to the woods and get away home. My home, thank God, is as yet outside their lines; my wife and little ones are still beyond the invader's farthest advance."
Except Clayton Kershaw will be standing there in a Union uniform ready to snap you, the noose and your neck back to reality. Sigh.
Cast about for hope again. Let's see if Freddy Garcia has anything that can help me out:
"I don't panic. I just make pitch." — Freddy Garcia.
Huh. That's actually a little comforting in some twisted way. I mean, sure, it doesn't make Freddy Garcia anything more than he is, but it woulda been nice if Julio Teheran had that kind of equanimity about him last night, no?  Yeah, I can sort of get behind Garcia's groove here: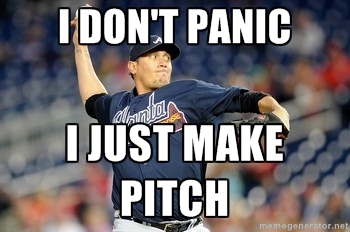 Playoff baseball, man. It'll make you believe anything and reach for anything in desperation.
And even if my boys go down in flames tonight, I wouldn't change a thing about how the playoffs roll.