Murray Chass — who just the other day I lauded for a nice one-off back at the New York Times — is back over at his blog today and he writes up an interview with Vin Scully. A man, surprisingly enough, Chass had never met despite their long decades covering and announcing the game.
Most of it is your by now standard "Vin is amazing" stuff which, even if it's 100% true, sort of goes without saying. But there's a couple of bits near the end which tell you all you need to know about why one — Vin — is still vital and the other — Chass — has been put out to pasture and skews misanthropic.
Chass spends a great chunk of the article talking smack about modern announcers, with a decided disapproval of the modern baseball broadcast.  Here's Scully, however, talking about the modern broadcast as compared to what he and Mel Allen were doing in the 1950s. Specifically when he and Mel Allen announced Don Larsen's 1956 Perfect Game, which he watched in a rebroadcast on MLB Network a few years ago:
"I took over the second half of the perfect game. It was so boring. so dull. In those days writers said broadcasters talked too much. I followed Mel's lead. He referred to consecutive outs – 10th in a row, 15th in a row. So when I took over that's what I did. We never mentioned a perfect game. It was so dull … Today, given the perfect game, we would have had magnificent shots, what teammates were doing, what was going on in the dugout. In looking at what we do today, compared with what we've done, it's so different."
Scully is a throwback and an old timer in a lot of respects, but he sees the advances in his industry as positive things. Or, at the absolute very least says he does, and thus is magnanimous towards his colleagues in the industry in a way Chass never has been at all.
Here's Chass, talking about sabermetrics:
Scully has lasted long enough in the business, as I have, to encounter other changes, such as the new era of what some people call sabermetric statistics but what I see as the new age of younger fans who resent their late arrival to the game and are trying to reinvent it.
Scully is no sabermetrician, but note how his eschewing advanced stats has nothing to do with judgment and everything to do with his own personal tastes and capabilities:
I asked Scully if he uses or pays attention to the new-fangled statistics.

"No," he said. "It's beyond me. I try to be as old-fashioned as possible – batting average, home runs, runs batted in, stolen bases. I don't disapprove of those who use them, but it's beyond me. It's too much for me."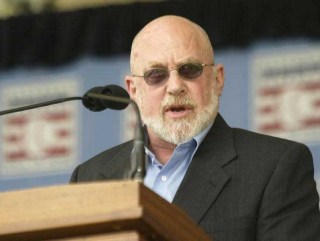 One of these guys is accepting and approving of new ideas, even if he does't adopt the new ways himself. One of them thinks everything new is bunk. One is of sunny public disposition, the other is an angry crank.  One has a job broadcasting one of the best, most popular and interesting teams in baseball.  The other has gone from being a feature columnist at the Paper of Record to being forced into writing a little-trafficked personal blog which, based on his own comments, he rather loathes.
This is no accident. It's no accident even if you weight for their respective talents at their craft (Chass, after all, was no slouch as a writer and reporter). When you open yourself up to the new or, at the very least, are comfortable with who you are and aren't threatened by those around you who do new things, you're going to adapt to the future just fine. When you don't — when you're hostile and disapproving of everything — no one is really gonna want to have you around anymore.