Don't give me garbage for ripping on another writer here. The writer in question, Gregg Doyel of CBS, invited me to. Indeed, we talked about it on Twitter like civil gentleman. Turns out we both live in Ohio too, and we're gonna meet for lunch sometime. It'll be quite the scene. We'll talk about why Heyman hates me so much and why Scott Miller — who may be the single most polite person I've ever spoken with in baseball media — has sorta lost his crap lately over A-Rod and Puig. It could be informative.
And I'm not ripping as such. This is all Doyel's opinion and he's entitled to it. I just take issue with part of its premise.  The upshot: he thinks it's great that Ryan Dempster threw at A-Rod and applauds this "policing of the game" as he puts it:
Ryan Dempster threw at Alex Rodriguez the other night, and kept throwing at him until he hit him, and baseball suspended him for it and the Yankees hated it and I loved it.

That's OK to say, right? That I loved the way Dempster went after A-Rod? … Liking what Dempster did to A-Rod feels sensible. Because what Dempster did to A-Rod looked sensible. It looked right.
Again, his take to which he's entitled. I don't think he's alone either, as a lot of people felt that way while watching on Sunday, even if they weren't nearly as excited about it as Doyel seems to be.
What I do take issue with is his belief that this sort of thing is harmless:
I'm not talking about beaning the guy. I'm not talking about throwing a pitch at his head. I'm talking about the kind of thing pitchers do all the time, burying a fastball in an offending player's butt. It happens. Part of the game, all that.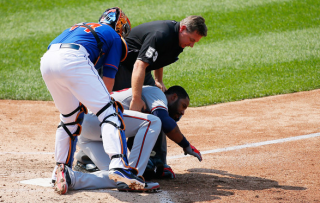 To that I'd merely ask Doyel to look at Jason Heyward, who is sitting in a hospital room with two plates freshly implanted in his fractured jaw today. Jon Niese obviously was not trying to hit Heyward in the head. He was aiming at the strike zone or, at the very most, somewhere a bit inside. But if a fastball intended to go into the catcher's glove can get away from a good pitcher and inadvertently sail into another guy's head, a fastball intended for "an offending player's butt" could do so even more easily.
Put another way: given how insanely damaging a baseball can be when it hits a batter's body, why on Earth should anyone be advocating for it to be done on purpose?
If you want the game "policed" fine, let it be policed. Let it be policed by the Joint Drug Agreement, the Collective Bargaining Agreement and the players and league officials who put it in place.  But let's leave the frontier justice in the past where it belongs.