I went to Pittsburgh on Saturday to take in the Diamondbacks-Pirates game. The reason: I mentioned to a friend of mine that my girlfriend had never been to PNC Park and that I wanted to go back. The friend — who happens to be a Pirates season ticket holder — shot me a couple of tickets for Saturday's game. Makes me wish I had told him that I was really wanting to drive a BMW 550i. Maybe next time.
Anyway, with tickets in hand — way better tickets than we had any business having — we drove to Pittsburgh Saturday morning for that afternoon's game.
Everyone who has been to PNC Park will tell you it is either the best park in baseball or is one of the best. That's a totally defensible notion for a number of reasons but lately I've been wondering exactly why people say that. What part makes it the best? Because I feel like there are a lot of things people value about ballparks and not all of them stack up equally.
Two parks you hear about as "best ever" more than any others are PNC and AT&T Park in San Francisco. What do these two parks have in common? The views. PNC looks at perhaps the best skyline in a major league park and AT&T looks out into the San Francisco Bay. Each park has its own charms apart from its view, but I feel like that's what people are keying on when they say those parks are best, don't you? Maybe that's just what they start with and the part they talk up the most, but I feel like for most people that weighs really, really  heavily.
And I like it too, of course, but I feel like that's not the most important thing. Because I have a couple of nitpicks for PNC Park that I feel prevent it from being The Best Park in Baseball despite that view.
Nitpick one: I think the speakers are too loud. At first I thought this was because we were sitting in amazingly good seats and perhaps we were just too close to some speakers. But looking around, I noticed that those big black speakers are pretty uniformly distributed and that we weren't all that close to one to begin with. Just a very loud park when they decide to pump in music. Which, to PNC's credit, isn't as often as some other places, but there were several times I thought the place was just too darn loud. Only crowd noise should be so loud that you literally have to shout over it at a ballpark, not anything electronically-enhanced.
Nitpick two: It's kinda cramped. I observed this on my first trip to PNC back in 2007 and wrote about it then, but the observation still holds. Back in 2007 I was in normal seats down the third base line, so maybe that was just a function of where I was sitting? Nope: on Saturday we were lucky enough to be in what are quite literally the best seats in the house: the Lexus Club right behind home plate. The view was great and the service was great but there was, once again, less legroom and elbow room than you typically see in newer major league parks, even in many of the usual box and reserved seats down the lines.
Again: these are total nitpcks, inasmuch as, boy, these were fantastic seats otherwise and at some point I can tune out excessive noise. So, no, this is not a negative comment as such. I just feel like, if your thing is "We Are The Best Park in Baseball" — and there are signs around the ballpark which literally make that claim — even the nitpicks are fair game.  All things taken together I think PNC is a top notch park. Probably a top-5 in my experience. But there are aspects of it which I don't like as much some folks do which puts it back in the pack with the other really, really good parks.
With that out of the way, some random observations:
I couldn't get a good picture of it, but the PNC Park banner scoreboards down the lines have some great info you don't get in a lot of places. In addition to the speed of each pitch it gives you a readout of the horizontal and vertical break of each pitch. This, in conjunction with the wonderful out-of-town scoreboard on the right field wall make PNC the tops in information-presentation in my view, even if the legroom is not the best.
There is a rotunda — kind of a ramp thing — out in left field which is a lot of fun:
It is all standing room for fans and, I presume, the place where the rowdiest people will be come playoff time. Also: when I was up there I saw no less then five people smoking and observed another five being told by stadium personnel to put out cigarettes. PNC Park had the most scofflaw smokers I've ever seen in a ballpark, actually.
This guy was the peanuts-popcorn-Cracker Jack guy in our section: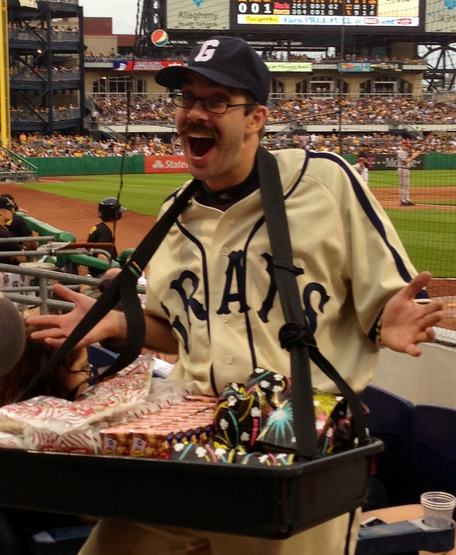 Handlebar mustache, full-blown Homestead Grays uniform. Pretty damn awesome. Given that the section is one in which fans get free food, I imagine a lot of his happiness is based on the fact that he doesn't have to make change or count money apart from the tips he gets. Either way: he was on his game and a pleasure to have around. Especially when I wanted Cracker Jacks.
I was told I had to get a Primanti Brothers sandwich. I was told that they were better at the restaurant than in the ballpark, but that wasn't an option for us, so we got a capicola sammy: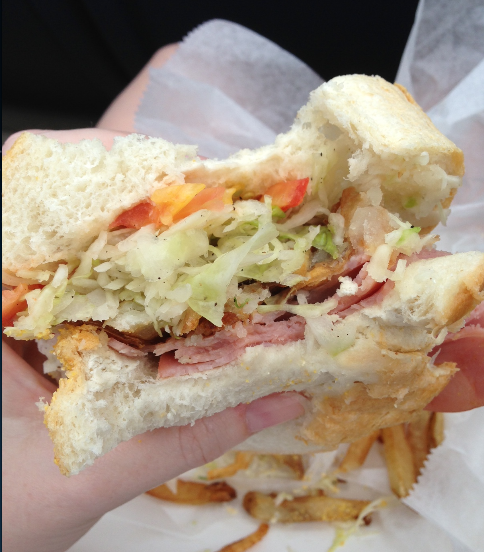 It was good, but not up to the level people talk them up to, in large part because it wasn't made to order and tasted like it had been sitting out for a while. I get a better sandwich of this type — fries and slaw on the actual sandwich — at Planck's here in Columbus. In this I found another parallel with AT&T Park: garlic fries are the same way.  Good, but you can do better elsewhere. I found some other concessions at both parks better than the thing which gets all the attention.
For what it's worth, my best meals in Pittsburgh game came at Burgatory for lunch before heading to the ballpark and brunch the next morning at Harris Grill, each of which were utterly fantastic.  Side note: a guy working at Harris Grill came up to me and said "you're Craig Calcaterra," which was simultaneously flattering and embarrassing. I am a jerk and forgot his name, but he's an HBT reader, so hi, dude. And thanks for the ego boost.
I walked into the team store to look around. Lots of good Pirates gear. I guess when black is so big a part of your color scheme that's understandable. You can do a lot with black. This stood out, though: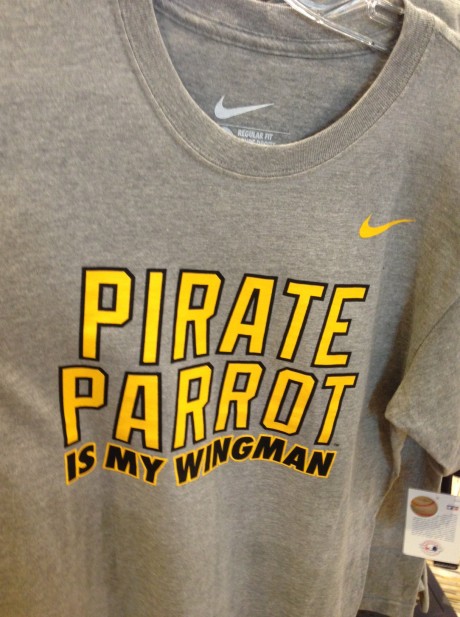 Yeah, that's what Dale Berra and Dave Parker said too.
As for gear, Allison and I each wore some Pirates stuff so as not to stick out. And because, secretly, I love excuses to wear stuff from just about any team as long as they aren't actually playing the Braves at that particular moment: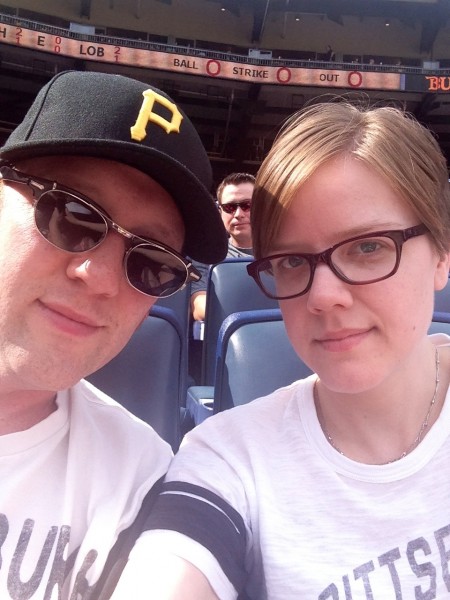 Note: if the Pirates beat the Braves in the NLCS, I am burning this hat and shirt.
As for the game itself: not very competitive. Jeff Locke was rocked early. Despite the big hole early, the Pirates had their chance to tie it in the sixth but missed their opportunity. After that the Buccos' bullpen was awful and it was 15-5 late. Not that it stopped this guy in front of me from rocking his rally cap: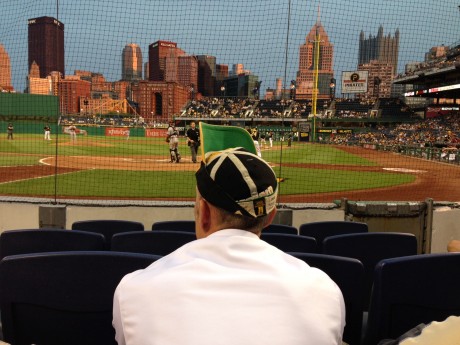 There was no rally. The Dbacks won. After the game we went across the street to Beer Market and had some of their many, many awesome beers on tap and shot the breeze with some HBT readers who headed over there too. A fun time was had by all.
All in all: an enjoyable 30+ hours in Pittsburgh. Nice people. A really nice city which I want to explore more when I have more time. A great park, even if I don't think it's necessarily the hands-down Best Park in Baseball. A "meh" game, but bad baseball is better than good anything else.