Chase Hughes of CSNWashington.com has the story:
During the first inning of the Nationals and Giants game on Tuesday night, Comcast SportsNet Bay Area's broadcast caught a tense moment between Gio Gonzalez and Jayson Werth in the Washington dugout.

Werth walked past Gonzalez and said something that provoked Gio to turn around and start yelling back at the outfielder, causing pitching coach Steve McCatty to step in the pitcher's way. Werth kept walking and appeared to take a seat in the corner of the dugout after the exchange.
Gonzalez was slow to cover first base on what could have been an inning-ending double play in the top of the first inning. Here's a GIF of the confrontation between Gio and Jayson from Carmen Kiew on Twitter: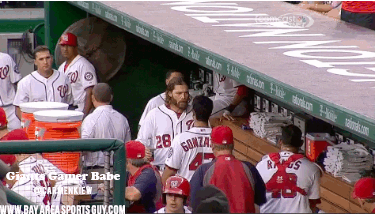 In closely-related news, the Nats are 14 games back of the Braves in the National League East standings.