Bryce Harper apparently didn't feel right during batting practice on Tuesday evening at Nationals Park, so he shaved clean before first pitch and then launched a solo home run in the bottom of the third inning to push the Nats ahead of the Braves 1-0, but Atlanta won 2-1 for a season-high 12th straight win.
Here, via Getty Images, is a photo of Harper and his growing beard from a couple weeks ago: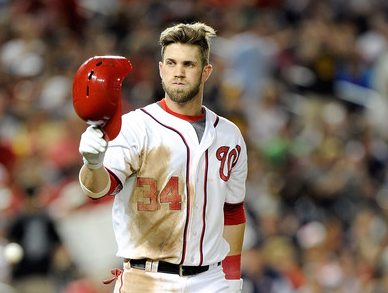 And here's the replay of Harper going deep to dead center. Notice the lengthy initial trot:
[mlbvideo id="29470911″ width="400″ height="224″ /]
Harper was hit in the thigh by Braves pitcher Julio Teheran on the first pitch of his next at-bat. He pointed toward Teheran and the benches cleared, but no punches were thrown. Busy night for the 20-year-old.