UPDATE: Now Jeff Passan reports that it's more like 3PM:
Still some last-minute decision-making on Biogenesis cases. Neither side expects an announcement until around 3 p.m. ET.

— Jeff Passan (@JeffPassan) August 5, 2013
9:05 AM: The Associated Press and several other news outlets are reporting that the Biogenesis suspensions will be announced at noon today. Very considerate of them to do it during our lunch hour, yes?
Word to the players has apparently already been given, as Jesus Montero — a guy mentioned in the Biogenesis documents — has informed team officials with the Tacoma Rainers that he won't be with the team after today. It wouldn't be at all surprising if affected teams started making roster moves to accommodate the loss of players even before the suspensions happen.
We'll obviously have oodles of coverage of all of this. We'll strive to make it fun and interesting, but frankly, I don't know how we'll top the Daily News and the Post. The Daily News will likely have several stories, one presumes, which have a lede of "A-Rod was expected to never play for the Yankees again …" despite only the Daily News reporting that with anything approaching certainty. Really, they had Rodriguez retired and claiming insurance scam money and all manner of things months ago. This development really does throw a wrench in all of that coverage, but I guess the best thing about being a tabloid is never having to acknowledge that the stuff you reported yesterday is nonsense in light of what happened today.
As for the Post: it's already the leader in the clubhouse with best headline: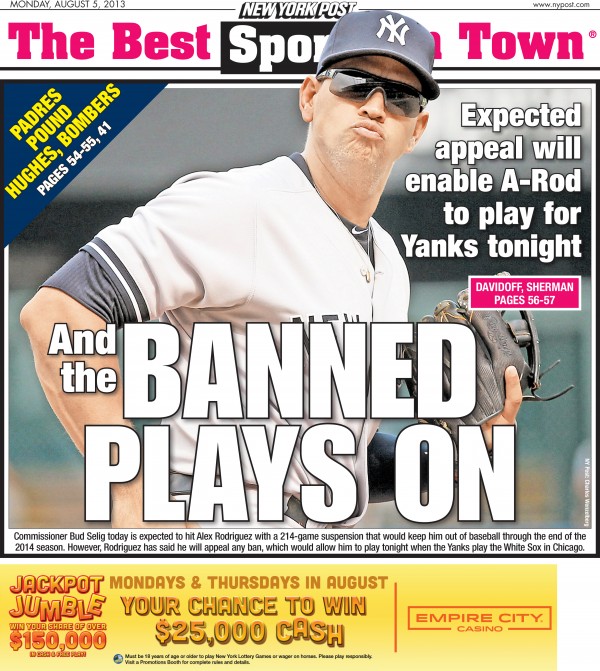 Buckle your seat belts, kids.