In light of today's forthcoming suspension many will, once again, rush in front of television cameras to tell us how Alex Rodriguez's legacy is now tarnished. Or "now forever tarnished." Or "his legacy, once sterling, is now as tarnished as … hmm … what is something that is tarnished …?  Bob, get that intern to bring me the thesaurus!"
What i'm saying is that it's going to be difficult for these folks seeing as how the baseball commentariat has declared Alex Rodriguez a monster, a joke, a disgrace and many, many other things multiple times over the past decade. He is, as Jeb Lund put it so succinctly today, "the most screwed person in sports celebrity history."
The last time Alex Rodriguez was truly seen as anything other than profoundly damaged goods was when he played for the Seattle Mariners. He was then transformed from a supremely-talented All-Star into a greedy mercenary when he signed his $250 million contract with the Texas Rangers In January 2001 and had that image solidified when he opted out of it while with the Yankees and signed another huge deal in December 2007. He was branded a steroid cheat and effectively denied his rightful ticket to the Hall of Fame when word surfaced of his past performance enhancing drug use in early 2009.
That was really when his legacy, in the eyes of people who care deeply about things like a ballplayers' legacy, was sealed.  A cheater for more than four years, a money-first, me-first player for well over a decade. Sprinkle in all of the petty p.r. things like the magazine interview in which he was pictured kissing himself in a mirror, his on-field controversies like trying to distract fielders and trying to walk over opposing pitchers' mounds, the lurid stories of Rodriguez cavorting with strippers, pop stars and movie stars and the constant unfavorable comparisons between him and teammate Derek Jeter and you have a player who has long been viewed unfavorably, rightly or wrongly.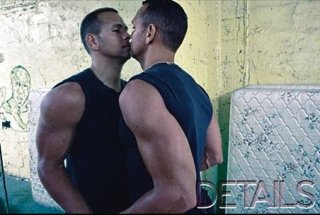 Mostly wrongly. We'd all take $250 million if someone was dumb enough to give it to us. Most of A-Rod's "controversies" have been silly little things. Those less silly — like his marital infidelity — are certainly not unprecedented among the rich and famous. His PED use is not, as far as we know at the moment, fundamentally different from that of other players who have been implicated in that mess. Many of them — Andy Pettitte, Mark McGwire, for example — are thought of negatively when thought is actually put to the matter, but are not seen as inherently evil pariahs. Others — Barry Bonds, Roger Clemens — are.  It's no coincidence that so much of that assessment follows what people thought of those players before their drug histories came out. So it is too with A-Rod.
Alex Rodriguez is a polarizing figure. He's been his own worst enemy over and over again. But he's long been held to an impossible standard and has been found constantly wanting. For us to say, then, that today's news does anything to alter his legacy is disingenuous in the extreme. This is not a fall from grace. This is not a hero brought to his knees. A-Rod has been a widely hated and hated-on figure for far longer than he was ever considered, first and foremost, a baseball superstar and this is merely another brick in that very tall, very long and very solid wall.
But I do suppose today's suspension and Rodriguez's inevitable appeal does provide one possible new avenue for legacy creation: that of the man who, indirectly, helped bring some semblance of reasonableness to the performance enhancing drugs discourse.
Rodriguez's suspension of what will be, in effect, 214 games is more than four times greater than that ever handed down for a first-time drug offender in the game. His appeal will no doubt center on the disproportionality of that sanction.  If he's successful, it will be because Major League Baseball was unable to provide evidence that his offenses were orders of magnitude greater than that of other drug offenders, his suspension will be reduced and the judgment will, in essence, be "Alex Rodriguez is not as bad as you thought he was."
Perhaps if an independent arbitrator says this people will start to actually believe it, both about drug offenders in baseball as a whole — a bad lot to be sure, but cast in a far darker light than is reasonable given the other evil that athletes do — and Alex Rodriguez specifically.  Put differently: maybe we've hit peak A-Rod derangement syndrome and we will finally begin to see him for what he is rather than the monster he as been portrayed as being.
Hahaha, sorry. I couldn't keep a straight face with that. You got me. We're going to, collectively, continue to throw mud on A-Rod from now until he's dead and buried and then we'll continue throwing mud on him after that.  It's all we've been conditioned to do for the past 12 years and nothing, literally nothing, is going to change that. No matter how many people go on television today to tell us otherwise.