I was at Citi Field until way after midnight last night then it took a good hour to make it back to my hotel. Then I was wired from my first All-Star experience and didn't get to bed until it was way closer to my usual wakeup time than it was my usual bedtime. Waking up at, like, 9AM is insanity. I don't know how you lazy people do it.
I'm getting ready to head out of New York, having taken in my first All-Star Game. Gotta say, the entire experience exceeded my expectations.  Some random observations as I prepare to book it back to America's Heartland:
The Futures Game was more fun than I figured it would be. I touched on it a bit on Monday morning, but there is a lot of fun to be had seeing players you've never seen before. Sadly, however, way fewer people see the Futures Game than really should. Note to Major League Baseball: do not schedule the Futures Game opposite actual Major League action on Sunday. Give it its own day on Monday, move the Home Run Derby to Tuesday and the All-Star Game to Wednesday. You'd get yourself three days of feature programming and way more people could enjoy the Futures Game.
The Home Run Derby is probably the least interesting of the three main on-field events during All-Star Week. I don't know how to spice it up. Maybe make a baseball triathlon of sorts, with a skills competition. Something involving running, throws from the outfield, precision bunting, whatever. I don't know. The Derby just gets so tedious after a while, and I feel like the only reason it's as long as it is is to justify a block of three hours of programming on ESPN. A baseball game is worth that. Batting practice isn't.
Some people are saying last night's game was uneventful. I don't care. It felt way more like a real baseball game than a lot of recent All-Star Games. Good defense and some fun running and things. It put me in mind of 1988 baseball. And I really love 1988-style baseball. Except defense is way better now than it was in 1988.
I was happy this morning to wake up and read that the bulk of the commentary about last night's game focused on Mariano Rivera being wonderful rather than "why didn't Jim Leyland let him get the save?!" arglebargle. I'm sure some of that exists, of course. And if you think that you probably need to re-examine your priorities.
I rode the media bus back to Manhattan with former Royals/Rangers/Yankees/Pirates catcher Don Slaught last night. Slaught owns a company called RightViewPro which does video imaging of ballplayers for scouting and training purposes. He has come to nine straight All-Star Games where he sets up cameras to capture the swings of players, which he then breaks down, compares to others, uses for scouting and training and stuff.  Sounds like a neat operation, and not just because he claims that, if you do a video comparison, Ichiro and Mickey Mantle essentially have the same mechanics at the point of contact. Smart guy and a nice guy. And he's fully aware that his 1990 and 1992 Strat-o-Matic cards are wonderful.
I'm not sure how it happened, but there are a lot of you in comments and on Twitter who got it in their head that I hate New York. Nothing could be further from the truth. New York is wonderful and amazing. To visit. Which is what I am doing, so this has been a fantastic few days. To the extent I've been critical or complainy it's way more about me and my sensibilities not being all that compatible with life in a giant city for more than a few days, not a criticism of the city itself. In other words, it's not you, New York, it's me. And I know that. Besides, this place is beautiful. Even at 1AM: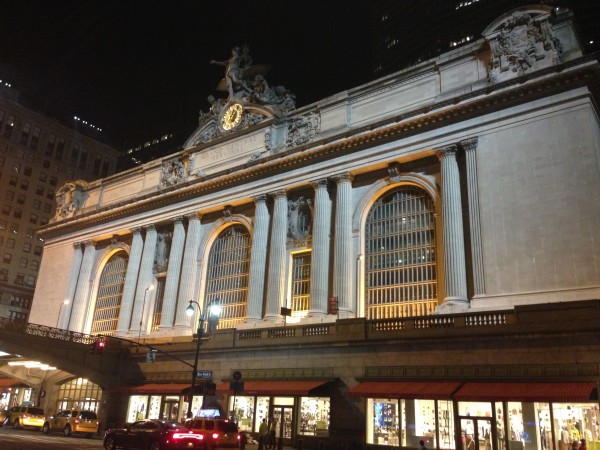 Thanks for everything New York. Hope Minneapolis is just as much fun for next year's All-Star Game.