Not scientific, obviously, but I'm pretty sure you'd get the same results if Nate Silver, C-3PO and Marvin the paranoid android teamed up to calculate this bad boy: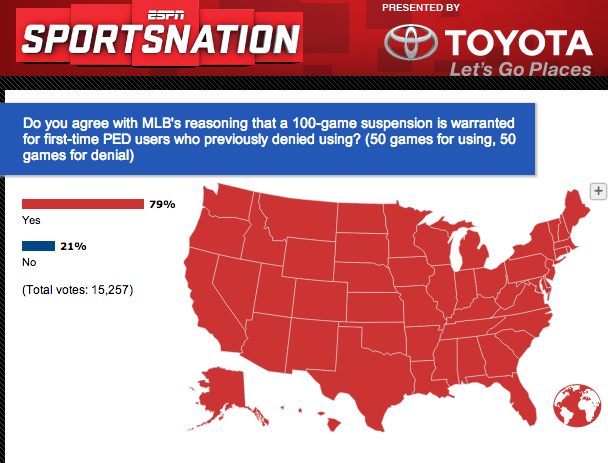 Probably worth noting that just about everything Major League Baseball has ever done with respect to PEDs has had its genesis in public relations disasters:
The league did not acknowledge PEDs as a problem until Jose Canseco and Ken Caminiti started talking about it in 2002;
It did not conduct an investigation into PEDs nor did it have anything approaching serious penalties for their use until the league and its players embarrassed themselves in front of Congress and other players began being called before the BALCO grand jury;
It's been investigating PEDs in south Florida for several years but did not take any real action until Biogenesis was splashed all over the news in January.
The league has always been reacting. Even if it has come to genuinely care about PEDs in the game and even if does possess a strong and legitimate interest in punishing drug cheats — two things which I sincerely believe — the fact is that P.R. considerations have always been the most powerful catalyst for Major League Baseball's actions regarding performance enhancing drugs.
I don't know if MLB is actually seeking 100-game suspensions. I don't know who's leaking the notion that players could face such suspensions. It may be the league. It may be agents and lawyers for the players. But I do feel like, whoever is doing the leaking, Major League Baseball will walk away pretty pleased from all of this, no matter the length of the actual penalties assessed.
People think the league is getting tough. Even if they can't make 100 games stick, the public is behind the effort and the players and their fancy lawyers will be blamed if they don't. For once, Major League Baseball is ahead of the curve, public relations wise. Which even if it isn't the primary goal here, you can bet is something with which the folks on Park Avenue are quite pleased.