I was out on Friday because I went to Chicago for the weekend for various reasons. High among those reasons was to take in a Chicago doubleheader: Cubs day game and White Sox night game. I did and had a nice time.
My first visit to Wrigley came 13 years ago. I was young and able to handle much more foolishness than I can now, so naturally I sat with my young friends in the bleachers and consumed all manner of beverages and kinda sorta watched Sammy Sosa hit a home run and paid a little bit of attention to the game and then sort of lost track of time until I was somehow transported to a place called Ace Liquors in West Chicago at 11pm and then told everyone for the next couple of days that I had a fine time at Wrigley and how, yes, it makes total sense for every Big Ten graduate to migrate to Lincoln Park and boy it would probably be nice to have a beer with that George W. Bush guy who's running and aren't the 2000s shaping up to be just like the 90s only more prosperous and peaceful?
Which is to say that one's opinions and tastes change, as does the world, and you never know exactly how it will change.
My view of Wrigley certainly has changed. It's hard to say anything about Wrigley Field that hasn't already been said. Thing is, almost everything that has been said about it, no matter how superficially contradictory, is pretty much true. It is charming. It is a dump. It is a great place to watch baseball. It does contain a whole hell of a lot of people not watching baseball. I can't think of a park which has the whole of baseball experiences in it, both bad and good, like Wrigley Field does.
This time I sat in good seats along the first base line and was responsible and aware and apart from being absolutely frozen by a stiff wind blowing in directly at me from left field on an already chilly day for June, I found the place to be peaceful and conducive to good baseball-watching. Part of that is me being an old fogey now, and enjoying the fact that the organ music-to-crappy pop ratio is very nice at Wrigley, as are the relative lack of promotional announcements and general noise pollution. I didn't focus 100% on the game as I wanted to move around some and see the park from different angles, and because I had some friends up in the upper deck I wanted to go visit, but I walked away from Wrigley feeling like the place still has something baseball needs.
Yes, it's decaying in many ways and has to get that renovation the team is proposing, yes there is still a lot of nonsense out in the Bleachers and, no, it's not some Field of Dreams-style jewel that must be preserved lest baseball lose its very soul. But the essence is right. If they can keep the place a building that is about presenting you a nicely unadorned baseball game in an urban setting, the Cubs will have done a great service. I sure hope the don't mess up the good parts while they fix all the bad stuff.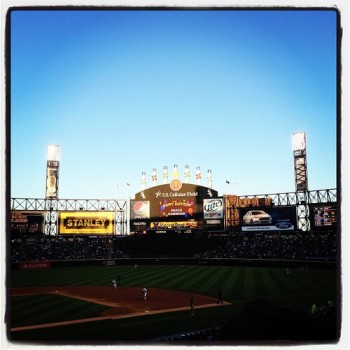 The evening meant the A's and White Sox at U.S. Cellular Field. It's an underrated park. So much of my opinion of that place — which I had never visited before Friday — was based on outdated information. It was the last of the parks to be built before Camden Yards revolutionized ballpark construction, and for that reason I assumed it was coldly utilitarian in the way all of those 1960s-80s multi-use parks used to be. I guess I maybe knew that at some point in the 90s there were major renovations to cozy the place up, make the upper deck a less harrowing and severe place and all of that, but it just didn't register in my gut somehow. Fact is, it is rather indistinguishable from most of the post-Camden Yards parks, both for good and for bad.
U.S. Cellular does all of the things a modern park is supposed to do: it's clean and easy to get to and spacious and the food is good and the sight lines are great. I got to the park early, sat in the Bullpen Bar, which is just beyond the right field fence at field level, and watched the A's take batting practice. As the sun went down I took a nice stroll around the concourse, taking the long way to my seats — my inexpensive seats — behind home plate. I had a great Italian Sausage and my companions had what they, in their expert opinion, said were the second-best helmet nachos at a major league park (Texas wins). The bathrooms were clean with short lines. It was easy in the way you want the ballpark experience to be easy.
And while, no, it does not have that baseball-only essence of Wrigley, it's a quite enjoyable place to see a game. White Sox fans seem to care. At least the ones at the game on Friday did. Maybe that's just a 2013 White Sox thing borne of the fact that no one is going to seek this team out on a chilly night unless they really like baseball, but it seemed like a very good baseball crowd in spirit if not in size. U.S. Cellular has one of the more assaulting "let's make some noise" features of any ballpark — it pits the fans on the right side of the park against those on the left in a screaming contest — but it seems pretty superfluous here. White Sox fans know when to cheer.
On Saturday I had some time to kill in the afternoon and found myself walking around down by the Field Museum and Shedd Aquarium. On the way back to my hotel I went by Soldier Field. It's an old stadium with a new one rudely dropped on top of it, making it one of the uglier and sadder buildings I've ever seen. One look at that and Chicago baseball fans have to consider themselves lucky. They have the old where the old makes sense and the new where the new makes sense and oh my god how easy it could have been to mess that up.