Bob Davidson has a history with the Phillies. Last year he received a rare one-game suspension from Major League Baseball after he got into an F-bombfull argument with Charlie Manuel. An argument that was started because Davidson himself got in the way of a play to the Phillies' detriment.
So you can imagine he was not so well-received by the Phaithful last night when he botched a call at second base. Ben Revere was in first, Michael Young was at the plate and put the ball into play. Revere slid into second base head first on what appeared to be a totally clean slide, breaking up the double play. Here it is, courtesy of our buddy Bill at Crashburn Alley: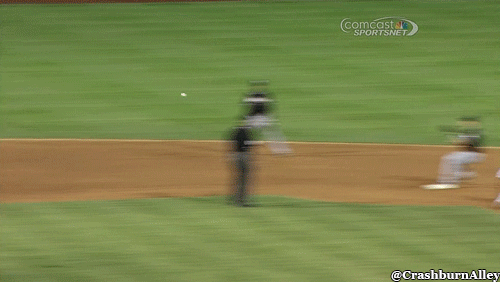 Revere is on the bag. Yes, he is clearly trying to break up the second baseman's rhythm, but that always happens. Except in this case Davidson ruled that Revere interfered and, subsequently, the double play was awarded to the White Sox. Which is frankly crazy because interference is never called when a runner is still on the base. Hell, it's never called as long as he's within arm's reach of it. Sometimes it's never called when the runner is two or three feet from the bag. And in this case Revere didn't appear to even touch the second baseman at all.
What was he even seeing here?