Our Blue Jays commenters are fit to be tied today due to the called strikes to Melky Cabrera in the ninth inning of last night's Jays-Rays game. Strikes one and three to Melky were clearly outside. Here's Brooks Baseball's plot of the at bat: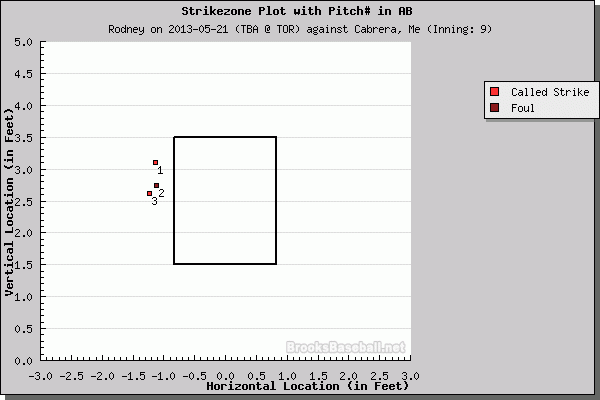 Pitch one and three were called strikes, pitch two was fouled off. It's not unlikely that Cabrera felt he had to swing at that due to the call on the first pitch.
Cliff Corcoran pointed this out at SI this morning. And noted that it's not an isolated incident. There are a ton of outside-the-zone calls being made against left-handed hitters. What's more, the increase in strikeouts this year is being driven largely by called third strikes, not swinging strikes.
Are the umps setting up poorly and missing the outside corner? Are they, as they have been wont to do over baseball history, just deciding to call certain things in new ways all of a sudden?  Do we have a bizarro Tom Glavine situation at work here?