Move over Clay Buchholz. Marlins starter Alex Sanabia went old school on Monday, bypassing the sunscreen and rosin and simply hocking a big ol' loogie on the baseball after giving up a home run to the Phillies' Domonic Brown.
The video isn't embeddable yet, but here's the link to it at MLB.com, as well as some still shots.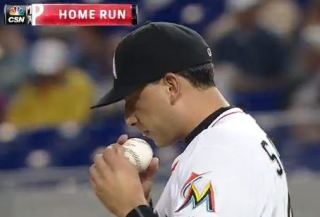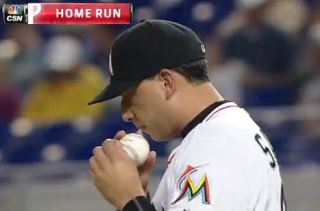 As it turned out, that second-inning homer by Brown was the lone run for the Phillies tonight in a 5-1 loss. Sanabia scattered seven hits over 6 1/3 innings in improving to 3-6 on the season. He lowered his ERA to 4.56.
While one can debate the legality of sunscreen on the arm, there's no doubt what Sanabia was doing was against the rules, and though no one caught him during the game, it will be interesting to see if a suspension follows based on the obvious visual evidence.
(hat-tip to David Cameron at Fangraphs)