We all know the story, I hope: baseball, due to an odious "gentleman's agreement," kept itself segregated and lily white for 50-60 years. Branch Rickey, as general manager of the Brooklyn Dodgers, set out in the mid 1940s to find just "the right man" — meaning a black man — to bring to the major leagues, thereby breaking that color barrier. Jackie Robinson was the right man. He made his major league debut in 1947, standing up to and utterly transcending the petty and hateful moods of the day, making the racists look like the retrograde buffoons they were, kicking off a Hall of Fame major league career and changing baseball — and America — forever.
But the fact that we all know that story creates one small problem: how in the heck do you make a movie out of it that delivers anything fresh, new or even the least bit suspenseful? With a fantastic hero and a fantastic story — which has the added benefit of being 100% true — at their disposal, this was the challenge for the makers of "42."  They did a good job with it. Not a great job. But a good job. One that's worth the price of admission but that isn't quite the Oscar-bait or piece of importance you get the sense they think they made.
The central problem with the film is a problem you see with almost all biopics: characters who appear to be overly-aware that they're in a biopic. To be sure, Branch Rickey, Jackie Robinson and others knew for a fact that what they were doing was historically significant. But I'm struggling to imagine how the real Jackie Robinson and Branch Rickey could ever have carried on a couple year's worth of conversations in which every other phrase was a platitude or a grand declaration underscoring just how significant everything was. Yes, a filmaker needs a shorthand way to convey years' worth of information and drama in a 115-minute film, but Harrison Ford's Rickey and Chadwick Boseman's Robinson often seem more like robots from a living history museum than real people.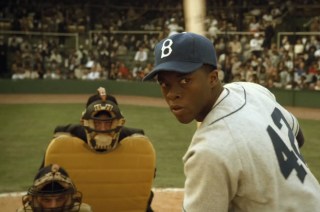 Which isn't to say that their performances aren't good. In fact, in many ways they're quite wonderful. Chadwick Boseman impresses as Robinson, especially in the baseball scenes. Actors frequently screw up baseball movies due to their inability to, you know, play baseball (I'm looking at you Tim Robbins, Tony Danza and many, many others), but Boseman captures Robinson's essence as a ballplayer. Most impressively his running style and the way in which he terrorized pitchers trying to hold him on. While the thinner-bodied Boseman isn't exactly a close physical match for Robinson, not once while watching him do you not believe he is, in fact, Jackie Robinson. That's something that an awful lot of biopics screw up (I'm looking at you Leo DiCaprio in "The Aviator" and Jack Nicholson in "Hoffa").
Harrison Ford is another matter. Much has been made about how he has hammed it up as Rickey. And yes, it is a bit jarring at first to see a longtime leading man like Ford putting on such a mannered, almost gimmicky performance. But over the course of the film Ford's Rickey grew on me. It's weird. You never forget that you're watching Harrison Ford playing someone who is, more or less, Branch Rickey. But you can tell Ford had a lot of fun doing it and that sense of fun helps lighten things up somewhat in a film with many difficult and often uncomfortable scenes. And, strangely enough, knowing that it's Harrison Ford there under those bushy eyebrows — Han Solo! Indiana Jones! Jack Ryan! The President of the United States! — adds some gravitas to a character which demands some gravitas.
With a sometimes ponderous script on one side and some winning performances on the other, what puts this movie over as a good one? The decision to focus most of the film's attention on the baseball. After a couple of opening scenes set in offices, most of the rest of what's important in "42" happens on the diamond, and those scenes look and feel great. Thanks to some nifty CGI Ebbets Field, the Polo Grounds, Forbes Field and Crosley Field look so real you'd think you've stepped into a time machine. The game play feels real too. Maybe a bit minor league (I know Robinson was fast, but man, those catchers couldn't have thrown THAT poorly back then) but what is often a weakness in baseball movies — the actual baseball — is a strength here.
Other strengths: winning supporting performances from Alan Tudyk as Phillies manager Ben Chapman, John C. McGinley as Red Barber and Christopher Meloni as Leo Durocher. Tudyk is absolutely (and appropriately) horrifying as the racist Chapman. McGinley delivers Barber's signature catch phrases ("in the catbird seat" and "tighter than a new pair of shoes on a rainy day") as if they weren't signature catch phrases, putting you in mind of a radio listener in 1947. Meloni's Durocher takes a few more liberties — I sincerely doubt the real Durocher casually dropped things like "nice guys finish last" at the end of random phone calls — but he conveys Durocher's larger-than-life persona in a few key scenes.
Ultimately, "42" is a good baseball movie which delivers on the baseball but not so much on the movie. History tells us what happened, so it can only do so much to be even a little bit suspenseful or surprising. And the format almost requires conversations to be exercises in exposition rather than true, character-driven dialogue. For this reason it doesn't enter the baseball movie pantheon and, at times, can be a bit of a slog.  But it's definitely worth your time and your money.