Rangers closer Joe Nathan picked up his 300th career save Monday on a pitch that not even he fathomed was a strike.
Rays manager Joe Maddon tweeted immediately afterwards: "That can't happen in a major league game."
But it can and did in the Rangers' 5-4 win over the Rays.
In truth, it wasn't nearly as bad as A.J. Pierzynski made it look. Not that it was a strike, but when it crossed home plate, it wasn't all that far down and away. Here's my best try at a freeze frame from when it crossed the plate and when it was caught: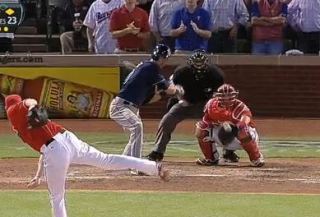 .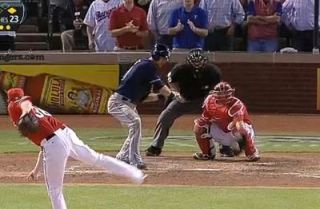 So, yeah, it should have been ball four to Zobrist, which would have put the tying run on second with Evan Longoria up at the plate. Instead, it was game over for the Rays and a milestone for Nathan in a shaky outing.