Major League Baseball has filed its lawsuit against Anthony Bosch and Biogenesis. There are multiple other defendants as well.* The claim: that by selling drugs to major league players, Biogenesis and Anthony Bosch "enabled such Players to possess and/or use [performance enhancing drugs] and thus knowingly and intentionally caused and/or induced such Players to breach their contractual obligations under MLB's Joint Drug Prevention and Treatment Program not to possess or use [performance enhancing drugs]."
UPDATE: The entire complaint can be seen below.
This morning my primary legal criticism of the claims were that Major League Baseball could not show damages as a result of these acts. I have not changed my mind, if for no other reason than the contract MLB claims interference with is the Joint Drug Agreement, in which MLB has no direct financial interest. Indeed, it EXPECTS the JDA to be breached and has built in a punishment system because of it. When a player takes PEDs he violates it, by definition. Major League Baseball does not have a cause of action for breach of contract against them. How Major League Baseball expects to get greater satisfaction from an alleged third party tortfeasor than it could get from a party to the contract is … interesting.
That said, here are their damages allegations:
Due to Defendants' actions, MLB has suffered damages, including the costs of investigation, loss of goodwill, loss of revenue and profits and injury to its reputation, image, strategic advantage and fan relationships.
Nothing surprising. But also nothing which seems at all to be the stuff of a meritorious lawsuit.  It's loss of goodwill, outside of that involving a few columnists, is impossible to quantify. Its revenue and profits are at record highs and many would argue that these were achieved thanks in part to the PED-inflated offensive numbers of the past 20 years, not despite it.
This lawsuit is crazy on its face. It should be thrown out of court. I am shocked Major League Baseball found someone who would file it.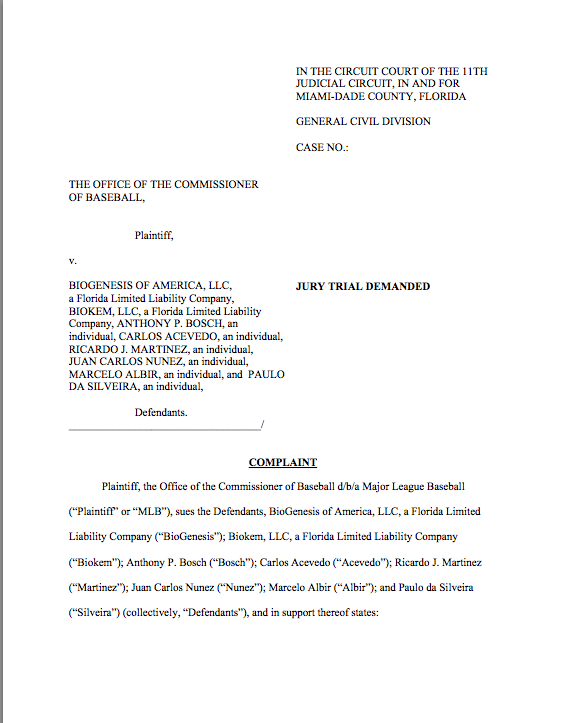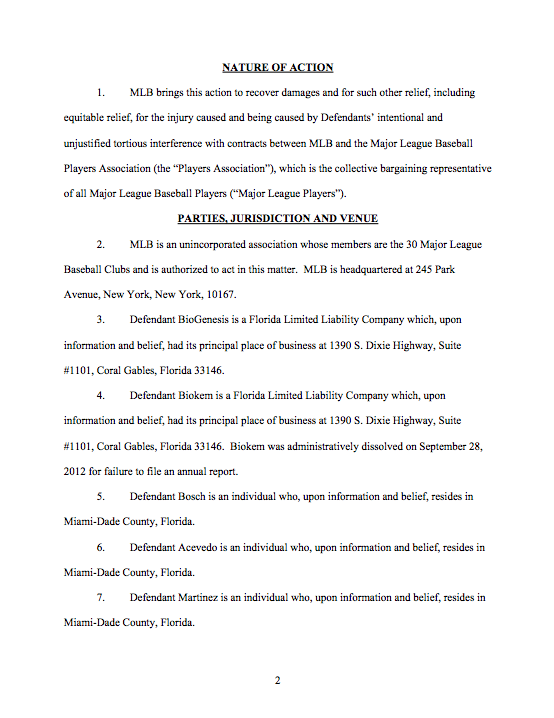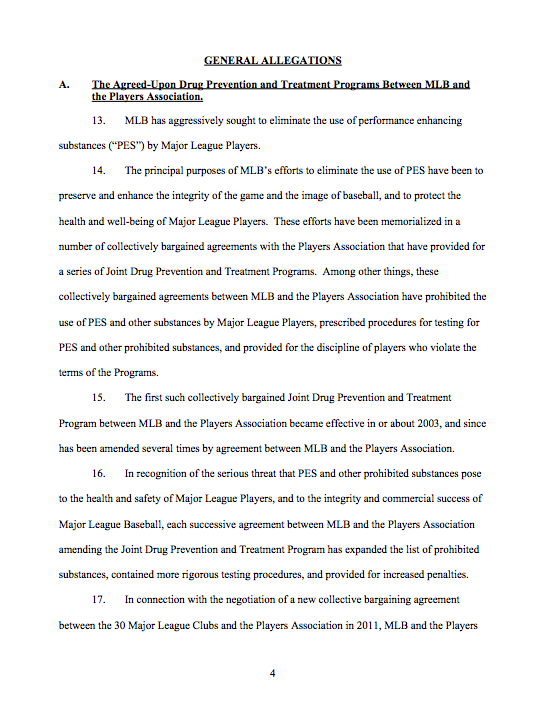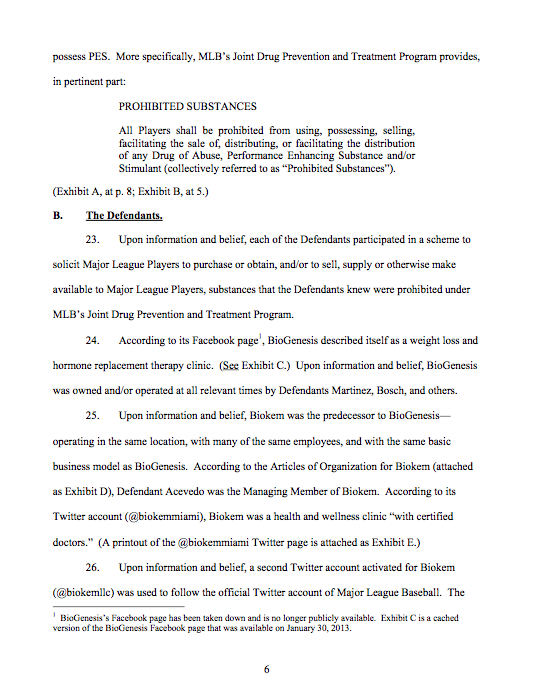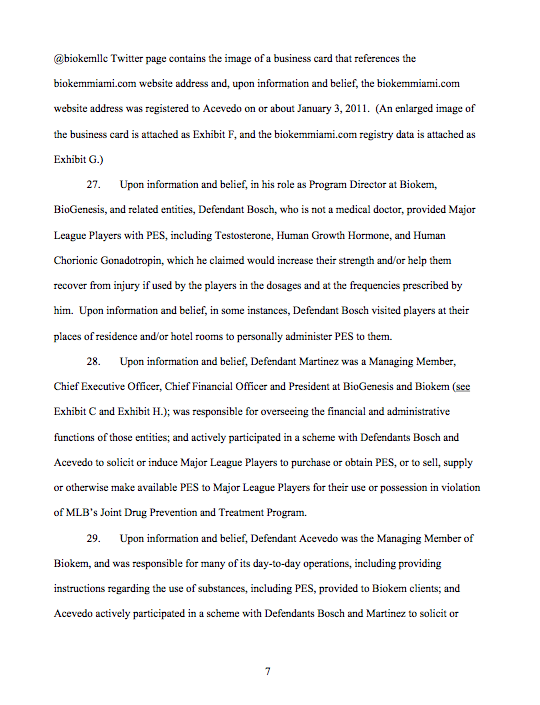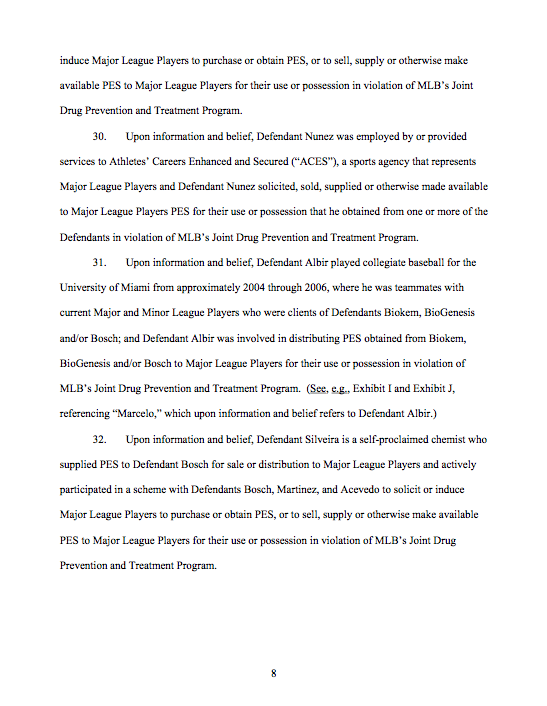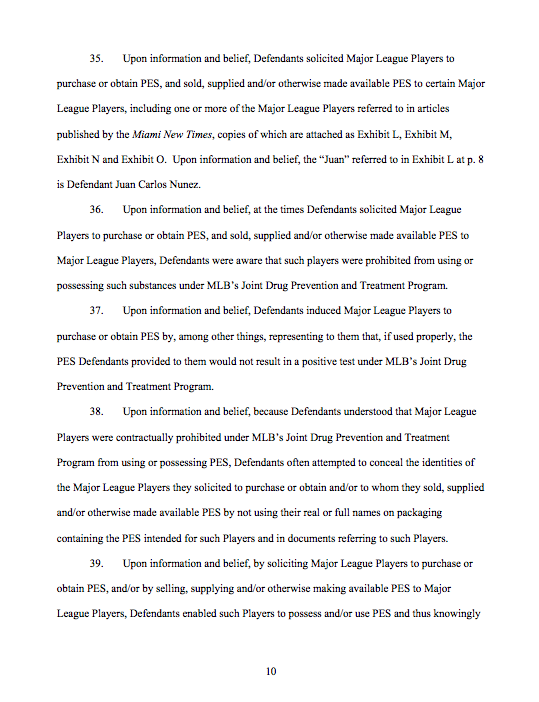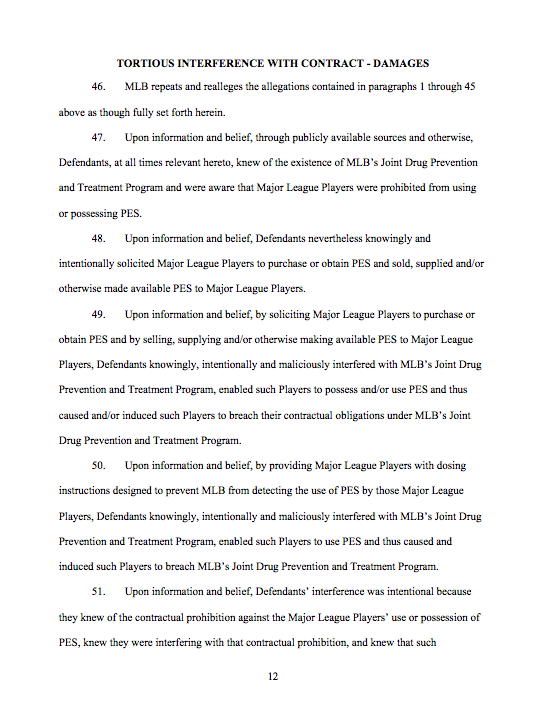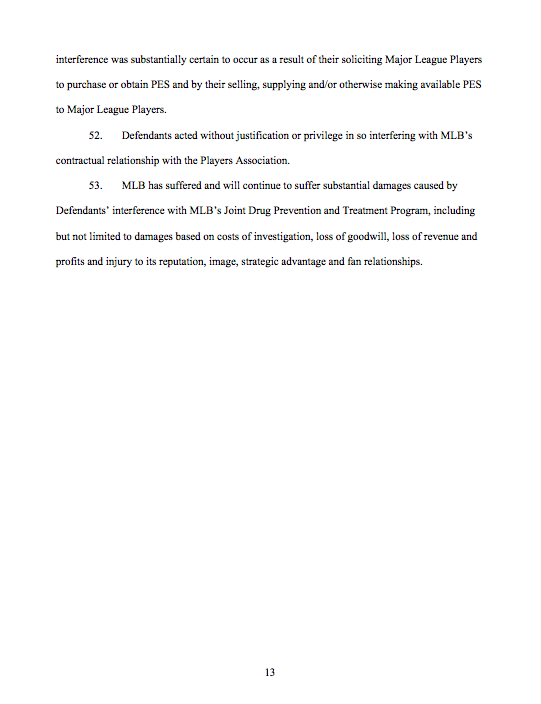 *The defendants:  BioGenesis of America, LLC, a Florida Limited Liability Company ("BioGenesis"); Biokem, LLC, a Florida Limited Liability Company ("Biokem"); Anthony P. Bosch ("Bosch"); Carlos Acevedo ("Acevedo"); Ricardo J. Martinez ("Martinez"); Juan Carlos Nunez ("Nunez"); Marcelo Albir ("Albir"); and Paulo da Silveira