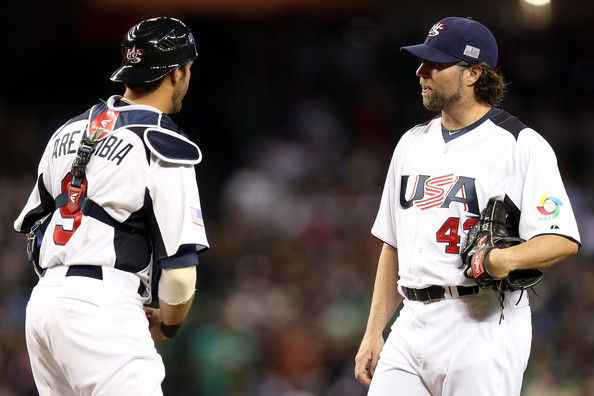 Below you'll find the starting lineups for Thursday night's second-round World Baseball Classic game between Team USA and Team Dominican Republic at Marlins Park in Miami. First pitch is scheduled for 7:00 p.m. ET.
   TEAM USA                       TEAM DOMINICAN REPUBLIC
1. Jimmy Rollins, SS            1. Jose Reyes, SS
2. Brandon Phillips, 2B         2. Miguel Tejada, 3B
3. Ryan Braun, LF               3. Robinson Cano, 2B
4. Joe Mauer, DH                4. Edwin Encarnacion, 1B
5. Giancarlo Stanton, RF         5. Hanley Ramirez, DH
6. Eric Hosmer, 1B              6. Nelson Cruz, RF
7. Adam Jones, CF               7. Carlos Santana, C
8. J.P. Arencibia, C           8. Ricardo Nanita, LF
9. Willie Bloomquist, 3B            9. Alejandro De Aza, CF

SP R.A. Dickey, RH            SP Samuel Deduno, RH
Dickey is back on the mound for Team USA after he gave up four runs over four innings in a 5-2 first-round loss to Mexico last Friday.
Deduno struck out five over four shutout innings against Spain on Saturday. The 29-year-old journeyman had a 4.44 ERA and 57/53 K/BB ratio over 15 starts with the Twins last season.
The winner of tonight's game will secure a spot in the World Baseball Classic semifinals at San Francisco's AT&T Park, where they'll take on either Japan or the Netherlands. The loser of tonight's game will play Puerto Rico at Marlins Park on Friday night in order to determine the second team to advance from Pool 2.
UPDATE: David Wright was scratched from tonight's lineup, so Willie Bloomquist will start in his place at third base.