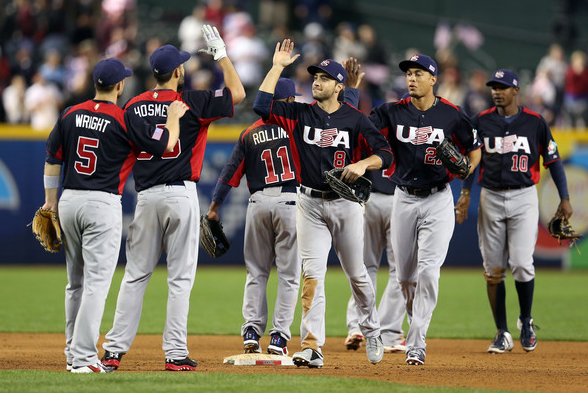 Below you'll find the starting lineups for Tuesday night's second-round World Baseball Classic game between Team USA and Team Puerto Rico at Marlins Park in Miami. First pitch is scheduled for 8:00 p.m. ET.
   TEAM USA                       TEAM PUERTO RICO
1. Jimmy Rollins, SS            1. Angel Pagan, CF
2. Brandon Phillips, 2B         2. Irving Falu, 2B
3. Ryan Braun, LF               3. Alex Rios, RF
4. Joe Mauer, C                 4. Carlos Beltran, DH
5. David Wright, 3B             5. Yadier Molina, C
6. Eric Hosmer, 1B              6. Mike Aviles, SS
7. Adam Jones, CF               7. Martin Maldonado, 1B
8. Giancarlo Stanton, RF        8. Andy Gonzalez, 3B
9. Ben Zobrist, DH              9. Eddie Rosario, LF

SP Gio Gonzalez, LH             SP Mario Santiago, RH
Stanton is back in action after being left out of Sunday evening's 9-4 victory over Team Canada.
Santiago, Puerto Rico's starting pitcher for this one, had a 5.70 ERA and 1.63 WHIP in 47 1/3 innings with the Royals' Triple-A affiliate in 2011. The 28-year-old right-hander did not pitch in MLB-affiliated ball in 2012.