Today is my first day back at work in the fortified compound and I'm just now starting to feel back in the swing of things. It's a good time, then, to look back at my ten days in the desert and talk about some of the things that stuck out, for better, for worse, for important and for not. So here's what I learned, in no particular order:
1. Yasiel Puig is a big young (?) man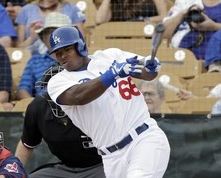 I saw the Dodgers four times. Just a quirk of the schedule, I guess. Cuban import Yasiel Puig played in all of those games. And he generally looked pretty good. He's a big, big fellow who hit a home run against the Indians a week ago Sunday that may still be flying someplace. Just impressive power and I'm rather high on his chances to make an impact. But something else notable: at the risk of breaking my "don't make accusations unless you have some proof" rule, I will say that if Puig truly just turned 22 years-old like the Dodgers say he did he's the most mature 22 year-old I've ever seen. Maybe I'm totally wrong — and I'll admit I'm just speculating off the old eyeball test — but the guy looks like he could have teenage children of his own. Maybe it doesn't matter. And I'd say a much bigger problem for him and the Dodgers is his tendency to swing at fastballs in his eyes. But I don't know if I'd be giving this guy seven year contracts.
2. Jurickson Profar looks overmatched
A guy who is more reliably young, the Rangers' infielder and baseball's top prospect Jurickson Profar, looked pretty overmatched in the early going. I saw him play twice and his at bats looked … unplanned. When he did have a decent idea of what was coming he didn't handle it well. And this was against pitchers who were still working on stamina and things and weren't trying to be too fine. I know spring stats should be ignored, but it's hard to ignore how ineffective Profar has been so far. To the extent Rangers fans are hoping for him to have a big impact, their hope may be better saved until he's had a bit more seasoning down on the farm.
3. My heart is going to be broken by Nate Robertson and/or Scott Kazmir, I can just feel it.
I got to witness two potential comeback stories in Arizona: Nate Robertson, who is remaking himself as a sidearmer after so much time away, and Scott Kazmir, who is trying to come back from friggin' oblivion. Both looked good when I saw them. Robertson was downright inspirational when I talked to him.  But part of me — the very pessimistic part of me that I wish wasn't there sometimes — keeps saying "everything seems great the first week of March, don't get your hopes up."  There are stories about guys on these sorts of comebacks every year. I always want them to work. Sometimes they do. I hope these two do.
4. It's spring training for fans anticipating home runs, too.
I think every single fly ball I saw in Arizona was met by a host of fans going "whooo!" or making some other noise that suggested they thought it was a home run when, most of the time, it was a mid-range fly ball. People in Arizona are dedicated fans to be sure. But they're not necessarily as informed and savvy as the folks back home. Well, this guy was, but he was a wonderful exception.
5. The World Baseball Classic is a lot of fun if you're actually at the games.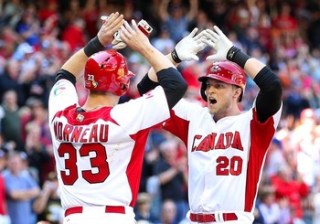 I saw two WBC games on Friday: Canada vs. Italy and Mexico vs. USA. The former featured a near empty Chase Field, the latter a nearly full Chase Field with a raucous and crazy crowd. The former was a mercy rule game, with Canada getting its clock cleaned, the latter a closer game for a while at least, but not really a barn burner. Though it wasn't the best baseball ever and though I have been generally lukewarm about the WBC, the games were better than all of the spring training games by a longshot because there was a greater intensity about them and a clear sense that, yes, the players cared if they won.  That doesn't mean the WBC is great, but it does suggest that the whole "the games are too early and should be moved to a different part of the year" criticism isn't necessarily the best one. Good baseball can be played in March. Oh, and if you play your cards right you can get yourself on national television, looking silly, while at one of the game.
6. It's way more interesting to talk to baseball players about non-baseball things.
I interviewed more players this year than I ever have. And though I'm still a total novice at the clubhouse beat compared to just about every reporter out there, I've realized that for the most part I am not all that interested in talking to ballplayers about baseball. OK, that's an exaggeration. Talking specifically about their craft and their career arcs and things are interesting, but (a) "how ya feeling after today's start;" (b) "tell us about the pitch from Shlabotnik in the fifth; and (c) "how do you think the ballclub is going to do this year" jive is boring.  I want to hear more about Corey Hart and Batman, thanks. Or ballplayers' other random interests. Or stuff from the periphery of the game. The on-the-field action almost always speaks so much better for itself than someone involved in it does two hours after the fact.
7. Spring training parks are weird.
This kind of speaks for itself. They all have their own little quirks. Except the music. They all play terrible, terrible pregame music.
8. A lot more adult fans bring gloves to the game than I thought.
I highlighted one leather-toting grownup in Scottsdale and many of you crawled out of the woodwork to tell me that you still bring gloves to games. I had no idea. I feel like this changes our relationship.
9. Diversity in baseball is not merely a black and white issue.
Early in my trip I visited the Giants, who have no U.S.-born black players on their roster. Which is odd. But which is not, contrary to what so many people like to say, indicative of a problem. Baseball may not look like it once did, but it is unquestionably more diverse than ever.
10. Everything is wonderful and everyone is happy and this will remain the case until about April 5th or so.
I guess the biggest takeaway from spring training is that there isn't really a ton to take away. At least not early. Every team and every player, no matter how bad they were last year, thinks they're looking good now. Every team and every player expects to remain healthy and for best case scenarios to reign supreme.  I'm sure there is some realism behind closed doors, and I suppose it's a particular joy of baseball to have optimism return every spring. Renewal. The Song of the Turtle. All that jazz.  But logic and history tell us that half of these teams are gonna be terrible, a lot of these optimistic players will struggle and that no battle plan in recorded history has ever survived much beyond contact with the enemy.
That contact begins on the evening of March 31 for two teams and in the next couple of days after that for everyone else.  The results of that and the changes and adjusts made in response thereto are what's going to matter. Almost nothing that happened in the Greater Phoenix Arizona area in the first couple of weeks of March will.