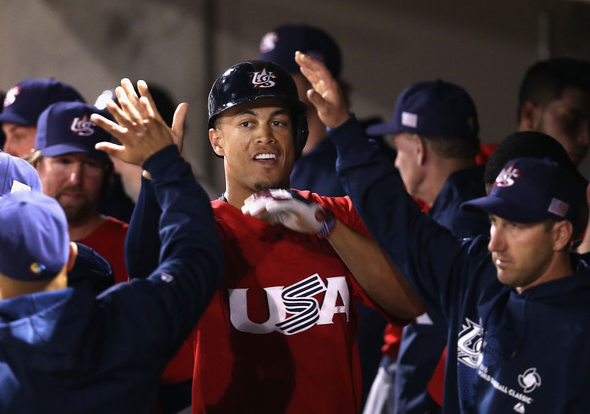 Below are the starting lineups for this evening's World Baseball Classic game between Team USA and Team Canada. First pitch is scheduled for just after 4:00 p.m. ET. It will be broadcast on MLB Network.
     TEAM USA                    TEAM CANADA
1. Jimmy Rollins, SS            1. Tyson Gillies, CF
2. Brandon Phillips, 2B        2. Taylor Green, 3B
3. Ryan Braun, DH               3. Joey Votto, 1B
4. Joe Mauer, C                 4. Justin Morneau, DH
5. David Wright, 3B             5. Michael Saunders, RF
6. Ben Zobrist, RF              6. Chris Robinson, C
7. Adam Jones, CF               7. Adam Loewen, LF
8. Eric Hosmer, 1B              8. Pete Orr, 2B
9. Shane Victorino, LF          9. Cale Iorg, SS

SP Derek Holland, LH            SP Jameson Taillon, RH
Team USA manager Joe Torre is sitting Giancarlo Stanton, who doesn't have a hit yet in the 2013 WBC but is obviously one of the premier sluggers in the sport. Zobrist will start in right field in Stanton's place.
Team Canada is using the same lineup that nailed down a 10-3 win over Mexico on Saturday afternoon.
The winning country will advance out of Pool D along with Team Italy. The loser goes … back to camp.