When I got here last week I wrote some complimentary things about Phoenix which were somehow spotted by the folks at the Greater Phoenix Convention and Visitors Bureau. Those good folks asked me if I was interested in joining them for dinner, along with a larger media tour they were holding in connection with the World Baseball Classic. You don't have to ask me out for dinner twice, so I as on board when it went down last night.
The location: The Hotel Palomar, a block or so away from Chase Field. The Palomar is home base for the WBC. Players for the WBC teams are staying there, as are all of the officials, media relations people and what not. And the whole hotel was festooned with WBC logos, like so: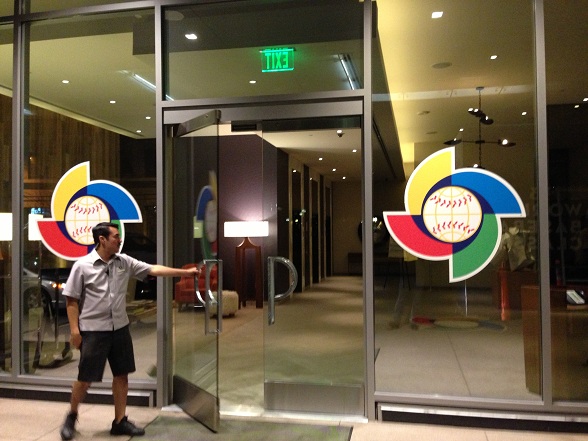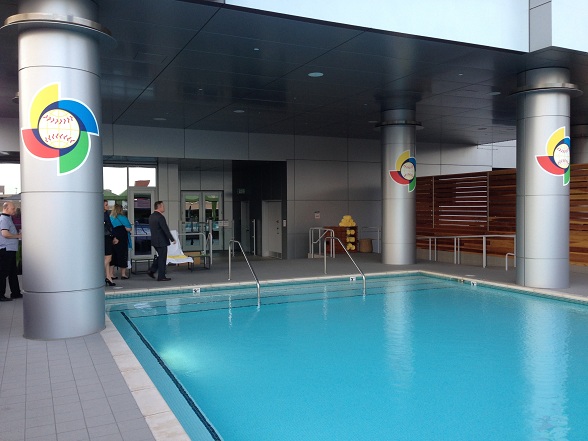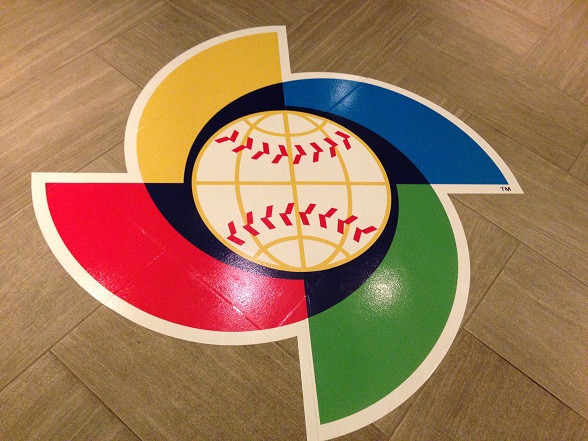 The Palomar is a nice joint. So nice, in fact, that it made me change my inner monologue about some of the WBC players I've seen around the Cactus League the past few days.  Before it went like this:
Look at those guys. They're good baseball players, but they're simply outclassed by the Major Leaguers. It must be so weird for them to find themselves on these fields, far from home, being humbled in this way. I feel like going up and hugging them.
Now it's like this:
Man, a couple of hours of this game and then they get to go to that sweet hotel, sit in the cabana by the pool and chit chat with all of the beautiful women who, by pure coincidence, are walking around the hotel, looking hard at anyone who might be a baseball player.
Put differently: even the backup catcher for Team Italy has got it better than you this week.
Driving around from ballpark to ballpark in the Phoenix suburbs, the WBC feels far away. But downtown, in and around the Palomar, there is definitely a feeling of electricity. I spoke with a couple in the lobby who came to town specifically for the WBC. They were excited. As too were those women who, by pure coincidence, were walking around the hotel. There were signs for meeting rooms and administrative offices for the WBC, all suggesting a much bigger thing, for lack of a better term, than most of us take the WBC to be.
All of it makes me wonder if the WBC would consider making the event a one-site thing in the future, rather than scattering it around the world like it is this week. There are certainly enough fields here in Arizona to make it work. Make it a destination thing, condense the schedule a bit and have one mega-hella tournament and maybe some of that heat I felt downtown last night would grow, making it an even bigger event than it is right now. Super Bowl-esque, dare I say? True, that is normally a sacrilegious thought when it comes to baseball, but I think it's quite appropriate for the WBC even if it isn't for the MLB regular season or World Series. Just thinking out loud here.
After bopping around the hotel we went into the on-site restaurant, Blue Hound Kitchen and Cocktails. There I had a couple of Manhattans and some short ribs and talked about baseball for a long damn time with the head of the Phoenix CVB, who happened to be a big Braves fan back in the Rafael Ramirez/Pascual Perez days and a freelance wine and travel writer named Bob Ecker who once raced as the Hot Dog in the Miller Park Sausage Race. Joining us in conversation was another freelancer named Lisa Davis who, while having very little connection to baseball herself, is looking forward to the White Sox-Cubs game on Thursday because she's convinced there will be fights in the stands.
Scenesters at a hotel pool. Travel writers. Italian baseball players. Civic boosters. For one evening I'm imagining and actually experiencing a world where everyone, in every walk of life, cares, in their own way, about baseball and has some connection to it, however tenuous. It's a world I would very much love to live in, even if I know it only exists in these odd couple of weeks in the desert, appearing like a mirage and, necessarily, soon to disappear.