It's been a nice day so far at Goodyear. After talking to Nick Swisher, Jason Giambi, Terry Francona and after watching and pretending to scout Scott Kazmir, I feel like it's a good time to stop being a reporter and mostly just gawk. So I'm gawking.
Bad news about Goodyear Park? The press box is impossibly small. Like, there's room for the home writers, the team PR people, the MLB and scorer people and, like, three visiting scribes. That crowds me out. The good news: for the second straight year the Indians staff let me set up in a luxury box just down the way from the press box. My view: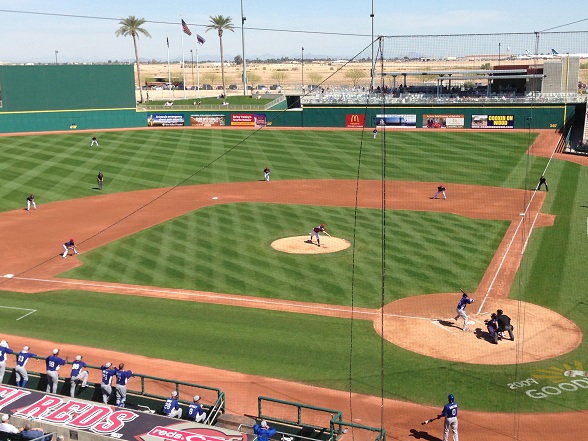 It's way better too. I'm out on the patio in the open air with just as good a view as the press box types but with way better atmosphere.  Last year I caught a foul ball up here. It's the bottom of the fifth as I'm writing this and no luck yet, but I'm hopeful. And if I do get one, there is no Jonah Keri here this year to guilt me into giving it to a kid. It's minemineminemine.
The game so far: 2-0 Indians beating the Dodgers. It's pretty inconsequential, though. It's a split squad Dodgers team and, really, not much drama is going down with this Tribe team at the moment. It's a far more chill day than is even typical for spring training. The highlight so far: Don Mattingly — who you can see in the dugout in the picture above — stood up an inning or two ago, attempted to put his lineup card in his back pocket, tried again, and again, and again, and again, and kept missing his pocket. So he threw it on the floor.
This guy: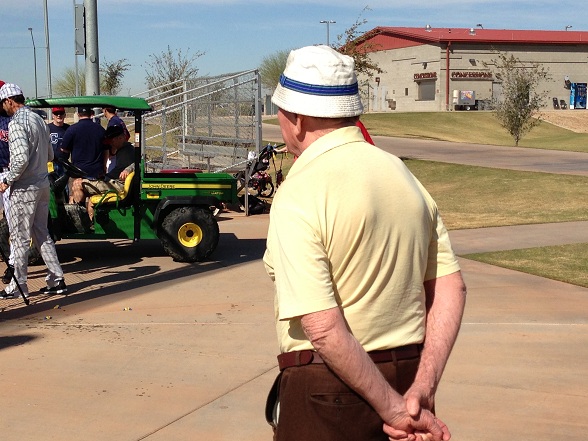 Amazingly not a scout.  I thought he might have been, as he was watching the Kazmir thing earlier and, well, looks like how I imagine all scouts looking.  Nope. Just a guy "who likes a lot of baseball" he told me. His name is Carl. He goes out to a different complex every day and just hangs around until he feels like getting lunch, he says. I want to be Carl when I grow up. He's really cool.
Just outside the Indians' clubhouse: Phiten necklaces, marked down!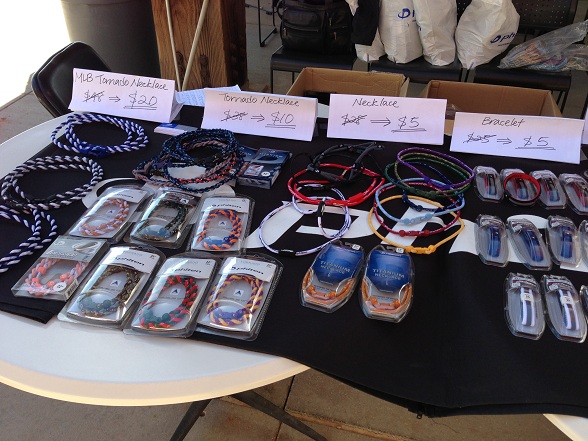 This is how it was with Poison albums just after Nirvana hit big.  Speaking of big: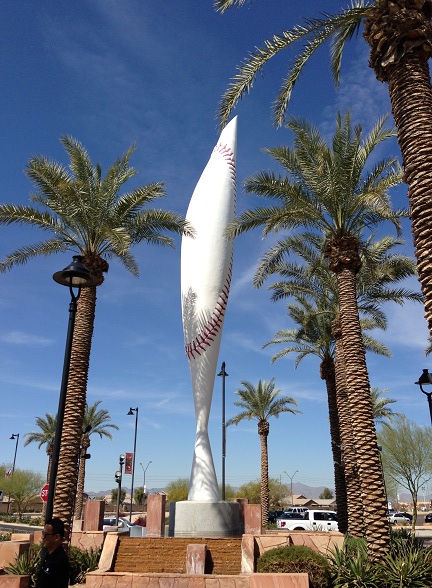 Love this thing. If Cheech and Chong made a baseball movie this would be a central plot point, methinks.  And now from the comedic to the absurd: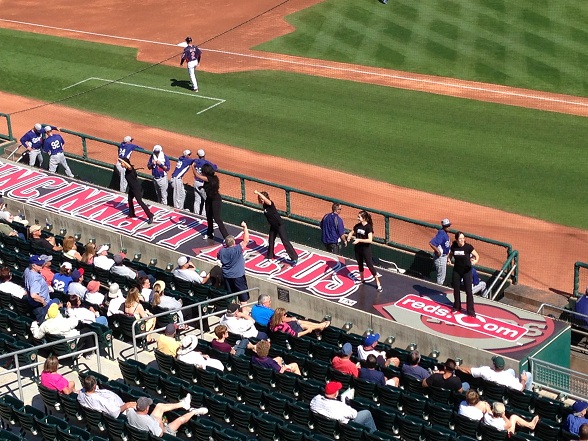 In between the first and second inning some trainer people jumped onto the dugout and did a "90 second workout" for the crowd. They actually expected everyone to get up and exercise. They yelled things like "C'mon! You're not gonna work off those beers just sitting there! Now 1! And 2! And stretch! And move!"
Their bodies were never discovered and there are no suspects.