Today's matchup pits Team Italy against the A's. The Italian team got here about an hour or so ago and is working out and taking BP now. They look like every other baseball team you'll see. Except on this one, Nick Punto is probably the second best player. That doesn't happen very often.
Oh, and one of their coaches might be their third best player: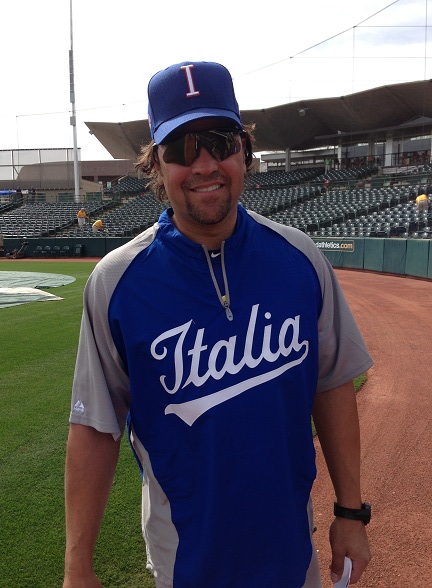 Piazza seems to be in a good mood. He's got a son on the way. He's got a book out. Life is good. He's also, apparently, a man of the world. I was talking to A's broadcaster Vince Cotroneo when Piazza came over. They've known each other a while, and they began a friendly chat about things Italian. The subject of the new pope came up and Vince asked him "who he has in the pool."
"I sort of like the old guy from Ghana," Piazza said.  I guess he means Peter Turkson. "Old guy from Ghana" pretty much saps HBT's knowledge of the higher reaches of the Catholic church.
I watched Italian BP for a while. This is probably my favorite BP pitcher in the history of forever: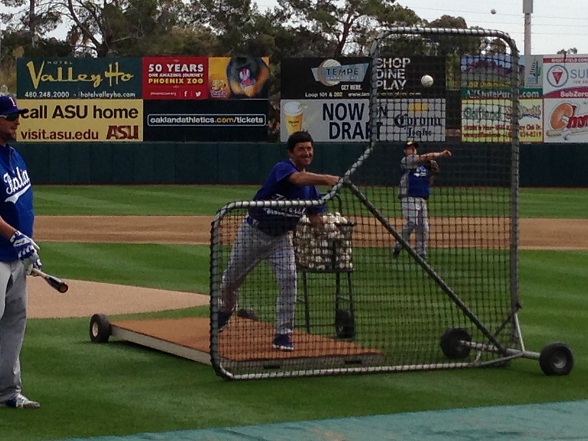 I don't know who he is. He's wearing number 15 but the press information doesn't list a player or coach on the Italian team with that number. I'm just going to pretend he slid here from another dimension. A dimension in which some baseball player suddenly found himself in a Fellini movie.
If you're scoring at home here is the Italian lineup:
Nick Punto, 2B
Chris Denorfia, CF
Anthony Rizzo, 1B
Alex Liddi, 3B
Chris Colabello, DH
Mike Costanzo, LF
Mario Chiarini, RF
Drew Butera, C
Anthony Granato, SS
The starting pitcher is John Mariotti. Earlier it was listed as Luca Panerati. During his presser this morning, A's manager Bob Melvin was asked if he knew anything about Panerati. Melvin paused for a few seconds and said "… I know he's a pitcher."
This should be a fun game. Can't wait until the national anthems.