It was a pretty full weekend in Arizona. And yes, I took that picture of Matt Harrison. Kinda proud of it.
I left Tempe Diablo Stadium on Friday afternoon and decided to get some food and a drink. I ended up getting that plus a poor man's Raymond Carver story out of it, so that was good. You'll have to read all of that to appreciate it, but it was the first time I've ever had a date to go to a baseball game blown off in favor of a Popeye the Sailor man tattoo, but that's where we are.
My girlfriend flew in for a quick weekend getaway on Friday night. When she landed I broke that diet you guys are sick of hearing about in order to make an In-n-Out Burger pilgrimage because you sort of have to do that even if you're trying not to die of a heart attack in your 40s. It won't help it, but you sorta have to do it.
Saturday we headed out to Salt River Fields at Talking Stick to take in a game as fans rather than media. Since it was a Diamondbacks game we amped up the grit factor by eating dirt, rocks and gravel for breakfast. Then we ran through a brick wall. We hoped that that demonstration of gamer-ship would keep Kirk Gibson and Kevin Towers from having security throw us out.
Salt River Fields is fantastic. Kinda on the cushy side, even, which probably pisses off Gibson to no end.
Gibson: I'd like to take out the overhangs which provide shade from the desert sun and replace the molded plastic seats with small boulders.
Owner Ken Kendrick: Kirk, please, keep the grittiness to the roster. The fans have to have some luxuries. This is Arizona. Many of them are older.
Gibson: [under his breath] Turnin' our fans into a bunch of pampered Uptons …
There were over 12,000 in attendance that day but it didn't feel half again as crowded as some of the older parks feel when they're packed with 7,000-8,000 fans. It's practically a major league park. I suppose it's inevitable that the places will get nicer and nicer as time marches on, but it's almost disorienting going from that sort of place to, say, Phoenix Municipal, which is how the Soviets would build their stadiums if they had the good sense to like baseball. Oh well.
The game itself was pretty par for the course in early spring training: lots of errors, base running mistakes and at bats which looked a little less-than-planned-out, both from the hitters' and the pitchers' perspectives. The highlight of the game for me was messing with the Diamondbacks' Vice President of Communications, Josh Rawitch:
I guess I wasn't technically "messing with" Josh. Because I really was stealing the press box Wi-fi.
Random observations from the game, which pitted the Grit-Meisters against the Texas Rangers:
Lance Berkman was the leadoff hitter for the Rangers. He didn't attempt to steal, but he drew a pickoff throw from Wade Miley while on second base. Spring training is cool.
In the space of a few short minutes Martin Prado made a bad throw from left field and Randall Delgado got knocked around a bit and looked kinda sloppy. I guess the Braves win the Justin Upton trade.
Kila Ka'aihue came to the plate for the Diamondbacks. Kila Ka'aihue? On the Dbacks? Who knew?
I watched Nate Robertson warm up in the Rangers' bullpen for a while. Over the winter we heard about how he was coming back and how a big part of that comeback was him developing a sidearm motion that was totally different than anything he did before.   After warming up he flashed that sidearm action for several pitches in the pen. It looked good too. Then he went into the game and threw his old overhead business. I guess he doesn't trust it yet. I'm going to Rangers camp today and I'm gonna ask him about it.
Oh, and some skeezeoid hit on my girlfriend:
Guy in concourse just now pointed at my rangers shirt and said "I'd switch allegiances for you." It's spring training for him too, I guess

— Allison Marie (@norunsupport) March 2, 2013
All-in-all a pretty good day at the park.
I woke up yesterday, read a bunch of weapons-grade stupid from a guy who should know better, and then headed out to Camelback Ranch to take in the Dodgers and Indians.
I like Camelback well enough as a media member, but as a fair skinned person of mostly British/Irish extraction, seeing a game as a fan there is akin to a death sentence given the lack of shade in that place.  Unlike just about every other park in Arizona, it faces south-southeast instead of northeast, which means that the roof of the grandstand provides almost no shade. I have no idea why they built it that way, but they did. We lucked out in that it was pretty cloudy yesterday, but I'd like to hear the explanation for that design choice.
Random things from the Dodgers and Indians:
On the way to the park Allison and I wondered who was pitching and each of us agreed that we didn't care as long as it wasn't Josh Beckett because he's a drag to watch pitch. It was Josh Beckett.
The Dodgers play a bad cover version of "Centerfield" before the game. It was the only time in my life I've pined for John Fogerty's version.
Michael Bourn and Jason Kipnis were the only two bona fide regulars in the Indians lineup. I know that veterans usually don't travel, but I've seen split squad games with a better showing than that. I guess everyone else got Sunday off.
Jason Giambi was there, however, DH-ing. I tried my best to relish his plate appearances because I think there's a non-trivial chance he never gets another regular season at bat in the bigs. This really could be it for him, which is kind of sad. UPDATE: Or not. What do I know?
Matt Kemp's bat shattered and a shard of it stuck in the ground like a javelin or something: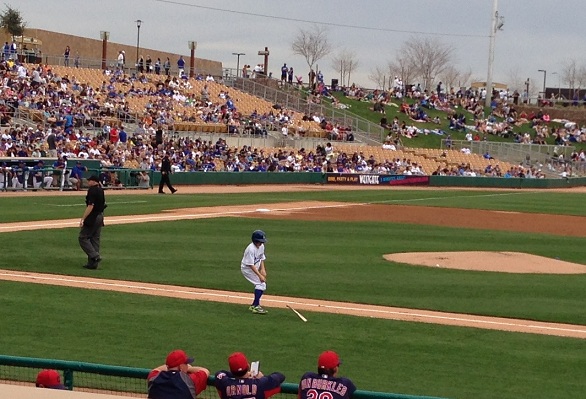 Kinda scary. We're gonna have another player impaled by a bat one of these days.
Yasiel Puig came in late in the game and hit a three-run homer. And it wasn't a cheapie. He tattooed the ball. I've seen him play three times in five days now and I have been impressed. He's raw and all of that but boy howdy I can't wait to see more of him.
Late in the game someone hit a foul ball and it went back into the open window of Ned Colletti's box. Colletti retrieved the foul ball and gave it to a fan. Then Colletti gave the fan three years, $30 million. The Dodgers, man.
With the game over I put my girlfriend on a plane and then went and climbed a butte. Mostly because "butte" is a funny word. Say it. Tell me it's not funny.
This morning I'm off to Surprise to see the Rangers and Padres. Surprise being approximately three miles east of Los Angeles, it may take me a while to get there.