There's a reason for that Harley Race pic. Just read.
Day three of my Cactus League tour takes me to Tempe Diablo Stadium, home of the Los Angeles Angels, the team with perhaps the most star power in all of baseball. Just check out the banner: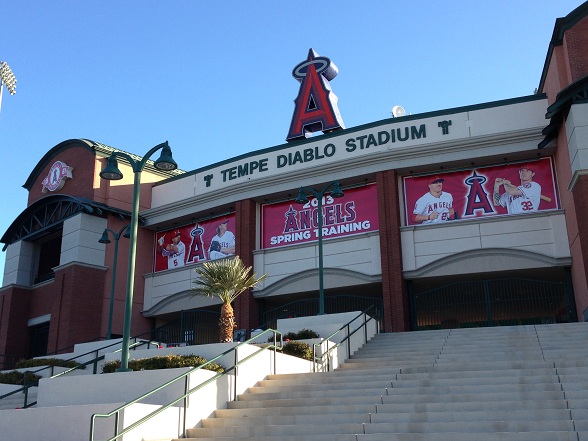 Of course, bringing in an MVP-caliber hitter and the big free agent pitcher last year didn't mean the playoffs. Baseball is a funny game that way.
I went down to the clubhouse, where things seemed pretty relaxed compared to my last couple of years here. It's hard to put your finger on why — I suppose reporters who are with this team every day have way better insight — but there seemed to be more joking and cross-talk and guys facing out of their lockers instead of in towards their lockers than there used to be.
One change, obviously, is where Mike Trout sits, both literally and figuratively. When you walk in the clubhouse there's an area off to the left (it was off to the right in previous years; they changed where the media enters) where the NRIs and minor leaguers who have yet to be sent down huddle in pretty tight quarters.  On the other side of the doorway is a stretch of larger lockers where the superstars like Albert Pujols reside. For the past two years Trout was over in the crowded area. Now he's on Veteran's Row.
And he's clearly comfortable. Rookies and minor leaguers tend to clutch bats while they sit in their folding chairs or stare intently at their smart phones. Trout did this the past couple of years. He now takes on the veteran posture: leaning back, smiling, and joking with his teammates. What a difference a gigantic breakout year makes.
Still, he's not the center of attention here. Despite five or six reporters in the clubhouse, no one was bothering him. When Albert Pujols walked in, however, he was swarmed by reporters, all asking about his health and when he's going to run on the field — he's already running on a treadmill and says he feels good — and whether he's going to DH more and that sort of thing. Mike Trout may be the best young player in the game, but he's still young and, it would seem, not yet as interesting to everyone as others.
The most interesting thing in the clubhouse: Scott Cousins Downs (oops) who sat at his locker with a WWE championship belt draped over his shoulder like it wasn't a thing. I walked over to him and said "really?"  He just smiled. He let me hold the belt. It's heavy and I want one. Another reporter came over and asked where he got it. "Internet," he said, clearly enjoying this. Eventually he explained that he collects wrestling belts. I asked him if he had the old-school, Harley-Race era NWA belt — my favorite, by far — and he said he didn't. He does have that big one they created for Ric Flair, though.
I asked him if anyone ever throws down, wrestling-style in the clubhouse. He said no. I prodded him, observing that there were, like, 50 folding chairs in the room. It could be awesome. He said "yeaaahhh …" either strongly considering the idea or else trying to humor me while thinking I was an escaped mental patient. But hey, he's the one with the belt so it's not like he can get all high-and-mighty with me about it.
Outside where today's lineup was posted: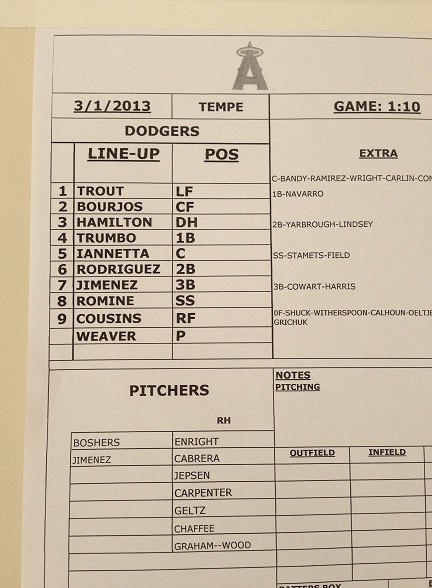 The visitors, for the second time in three days, are the Dodgers. And I'm going to see them at Camelback Ranch on Sunday. I think I'm gonna be pretty sick of the Dodgers soon.