Not a lot happening around here today. The biggest topic of conversation surrounds when Albert Pujols is going to run the bases. Mike Scioscia said "this weekend." Then, a few minutes later, Pujols was down by third base jogging and rounding the bag. A debate ensued among reporters as to whether that constituted "running the bases."  It was decided that, no, that did not count.
Mike Scioscia used to give his little press availability in his office, but now he does it outside: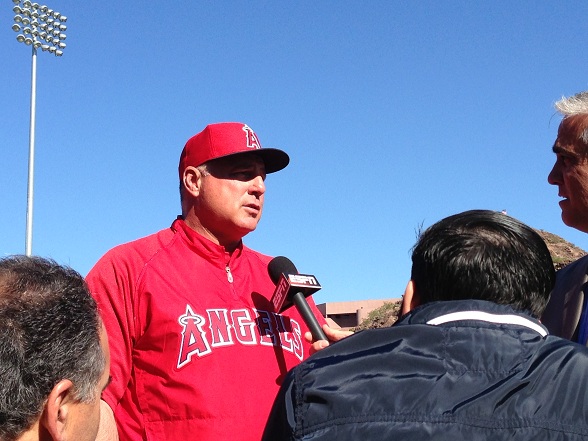 It's my third straight year of coming to Tempe, and for the third straight year Scioscia corrected a reporter who said that some random problem X was the team's biggest issue, saying "no, personally I worry about the bullpen." I think all managers worry about the bullpen. Even managers with good bullpens worry about the bullpen. I imagine it's no coincidence that managers have more influence over the bullpen than anything else. Managers are all zen and don't worry as much about that which they cannot control. Or something.
Soon that little scrum devolved into Scioscia and Pedro Gomez discussing their favorite restaurants in Phoenix. Scioscia's is Chelsea's Kitchen. Gomez's is Trattoria Arrivederci. If you go, tell 'em Pedro sent you. But you can't prove that.
Josh Hamilton was teaching Jered Weaver how to hit lefties here: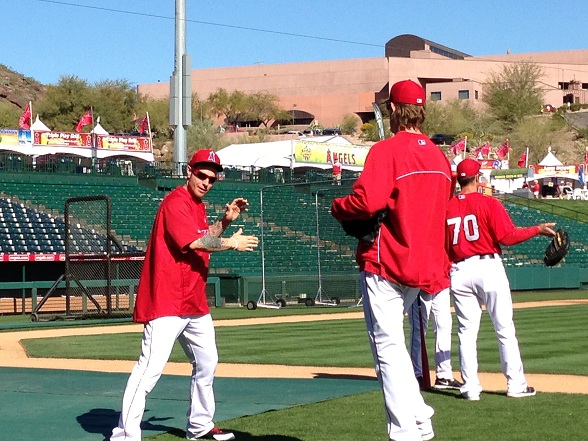 I guess it could conceivably come up in interleague play. If I'm Scioscia, though, I tell Weaver to keep the bat on his shoulder, don't get beaned and get his butt back to the dugout.
Pujols looked fine taking grounders: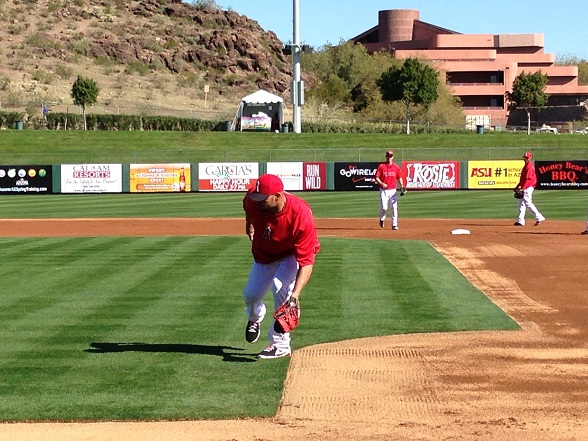 Guy could fall out of bed and play baseball. It's hard to describe, but just seeing him do, well, anything, makes you realize how friggin' talented he is. He looks better than anyone else simply pulling his windbreaker over his jersey.
Coach Dino Ebel hits flies to guys: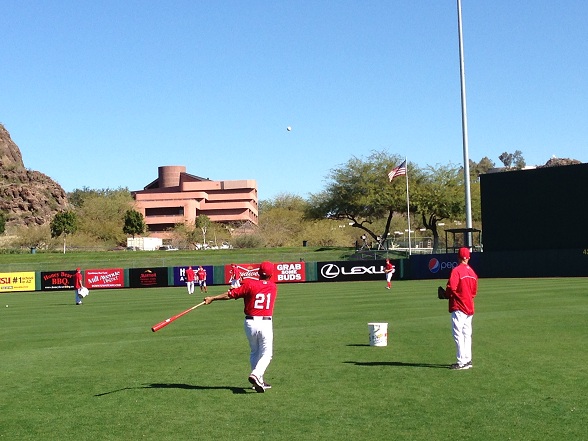 They don't seem to have one of those fly ball machines here. Maybe Casey Kotchman's fly ball machine injury has fundamentally changed teams' relationship with technology. I dunno.
The red rock/butte backdrop both here and at Phoenix Municipal where the A's play scream Cactus League more than anything else here. I still remember the first time I saw Cactus League highlights on ESPN or whatever back in the 80s. In my mind, they all look like this: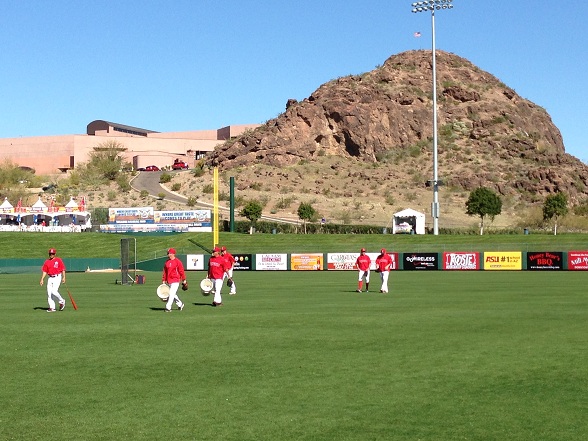 From the players' parking lot, this stuck out in the sea of Escalades and Tahoes: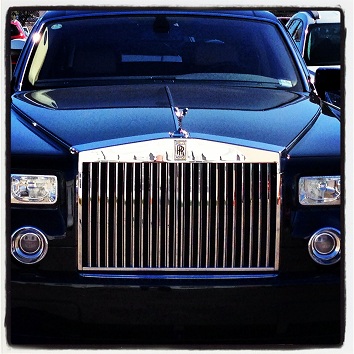 Someone is trying to keep a low profile.
Really, not much happening here today. Just a nice, 70-something degree day without a cloud in the sky and a baseball game starting in an hour or so. Life is hard.