I was sitting here in the press box, slowly losing track of the many mid-game substitutions and watching my scoresheet turn into a mess of misspelled names and inaccurate notations when — suddenly! — a ball was fouled back behind the third base line. A fan reached up and … it clanged off his glove.  This was that fan: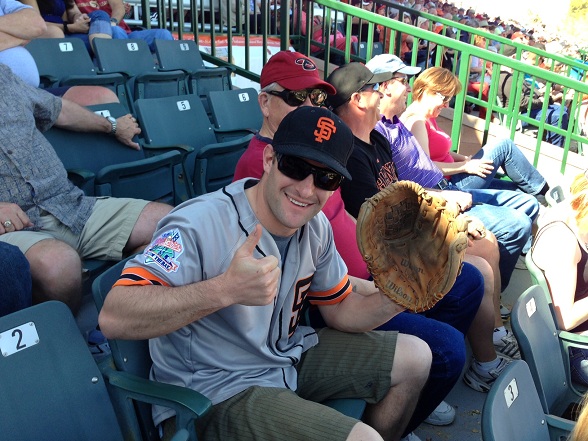 His name is Tyler Jack and he hails from South Lake Tahoe, California. The jersey he's wearing is a sweet Matt Williams number.  But the real issue is that glove on his left hand.
My reason for seeking Tyler out in the stands was because the issue of grown-ass men wearing gloves to ballparks has long been debated around here. I'd by lying if I said, however, that anything other than a small minority thinks it's OK for anyone besides (a) kids; or (b) the actual players to wear gloves to the ballpark. Still, I don't know that we've given the issue a full and fair hearing, and I wanted to get Tyler's side of the story. And what we learned was, I think, pretty critical.
Seems that Tyler usually takes a glove to the park.  I asked him if he had ever gotten a foul ball.
"Yes," he said.
"Where?"
"In Anaheim. At an Angels game."
"Ah, cool. So you had the glove then too? It worked out for you?" I asked.
"No," he said. "I didn't have the glove then."
Just as he said that another foul ball went into the stands farther down the third base line.  Another grown-ass man with a glove reached up for it and … missed it.
I just feel like there are life lessons to be learned here. I feel like this is sort of a turning point for human progress. And I worry that we're making choices that are dooming us.