CSN Bay Area's Andrew Baggarly made an observation while hanging out in the Giants' clubhouse here in Scottsdale the other day:
I looked around the room, I realized that [Willie] Mays, and his assistant, were the only people of African-American heritage in it … Sure, there have been times when the Giants did not have a single African-American on the roster. But no representation whatsoever in big league spring training? More than 70 players, and not one African-American in the room? That realization stunned me.
It is rather stunning given how many people are in camp.  As Baggarly notes, of course, it is part of a larger trend in baseball in which black players from the United States are less and less common in the game. It's territory that has been covered often in the past several years. And it's attributable to any number of things, be it economics, shifts in tastes, other options available, international scouting, the draft and its rules and on and on. While some want to portray this as something sinister or as a crisis — which, it should be noted, Baggarly does not do —  my view is that it just … is.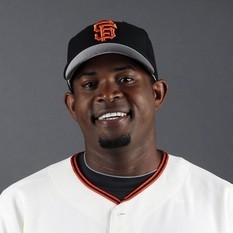 While there's no denying the oddity of a group of 70 professional ballplayers not containing a single black player from the United States, it's not as if this or any other clubhouse is lily white or lacks diversity. As I was walking around in it this morning I saw black skin, brown skin and white skin. There were players from North and South America, the Caribbean and Japan. I heard conversations in at least three different languages being covered by media writing in three different languages. That guy to the left is Santiago Casilla. If you didn't know who he was and didn't hear him speak, I'm guessing you wouldn't say that the Giants lack diversity.
After I walked outside, I came across Bruce Bochy sitting for an interview with what appeared to be a Japanese TV station. He was asked to characterize what, apart from baseball skill, made his team a good one. Bochy's answer was diversity. He described it in two ways: first, diversity of character, referring to guys with beards, guys with crew cuts, guys who joke, guys who don't, and on and on.  Then he talked about having players from Venezuela, the United States, Curacao, Puerto Rico, and the Dominican Republic. He says it's just a great mix of people.
Now, sure, he may be pushing that as a bit of spin in the days since media outlets picked up on Baggarly's story about the lack of black players in camp. Or he may simply be doing what every other manager does in spring training and talk about what a great group of guys he has. Heck, even Bobby Valentine talked that talk last year.
But I also tend to think that Bochy is speaking a lot of truth here about where the game is at the moment. Without question, it sucks that more black players from the United States aren't playing the game. I think Bochy would agree with my long-held sentiment that life would be 100 times better if every guy who was playing in the secondary of an SEC football team was instead patrolling an outfield because, man, it's such a waste to see that kind of athletic wasted on such an inferior pursuit.
But that's not where we're at for a million reasons. And while it would be a good thing to try to change that, the fact that we're not there doesn't mean baseball has a diversity problem. It's just changing. As it has always changed and likely always will.