Scottsdale Stadium, the spring training home of the San Francisco Giants, is pretty great.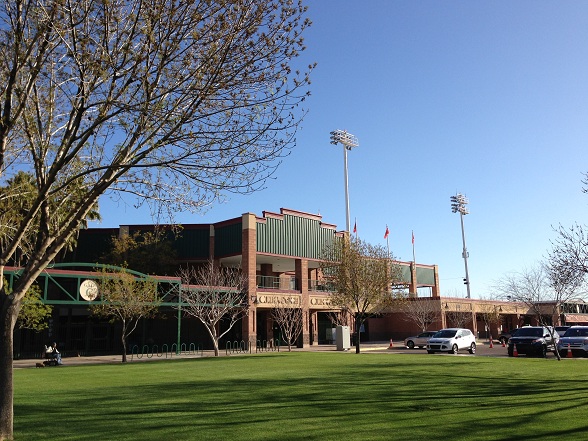 It just sits here nicely in the neighborhood. The scale is just right. The food is a cut above a lot of parks which means the smell is a cut above. Every time I've been here it's been a gorgeous day. Unless you're a Dodgers fan it's just hard to not enjoy yourself when you come to see the Giants.
Personally, I'm just giddy. No, not because of the ballpark. Because, after being thwarted due to my late arrival yesterday, I was finally able to get an equipment bag shot: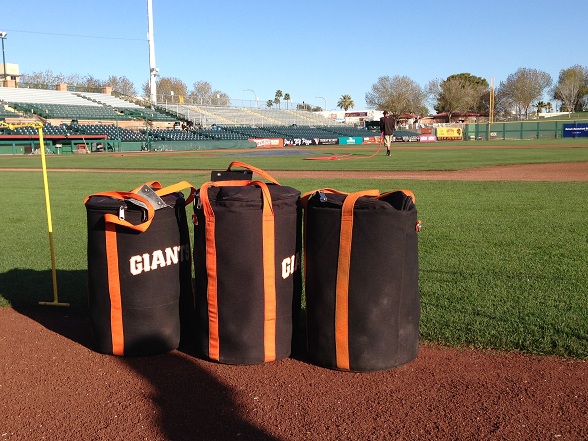 Ahhh. Sweet, sweet addiction.
I looked to the left and saw this: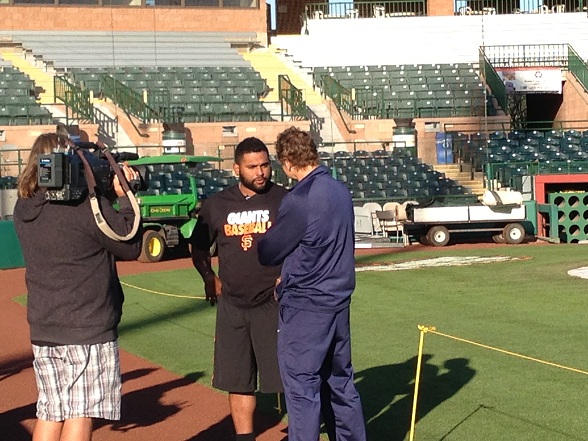 That's Eric Byrnes interviewing Sandoval for MLB Network. I listened to the interview. You'll be shocked that Sandoval, when asked how the Giants can turn two World Series titles in three years into a dynasty said "we just have to play our game." Earlier Byrnes was telling his crew how he deals with haters on Twitter. He actually does it right. If someone insults them, he says "thanks for watching!" and basically kills them with kindness. Say what you want about Byrnes, but he doesn't feed the trolls. Seems to have a pretty good head about him with that sort of thing.
Down into the clubhouse. You can't take pictures inside, but just outside the door was the day's lineup: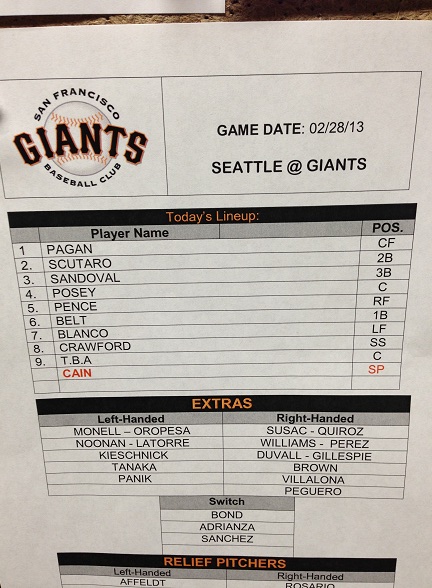 Bruce Bochy is a wily devil. Gonna confuse the Mariners with the old "two catchers" trick. Which one is the pitcher throwing to? I don't know! And neither do you! Bwahahaha!
While in the clubhouse I (a) made some observations about race; and (b) talked to Hunter Pence about some stuff.  I'm going to have separate posts about that later.
In the meantime, I'm back up in the press box. Where, as evidenced by my computer logging on to the Wi-Fi automatically, the Giants have not changed the password in the three years I've been coming here. Good ole "AaronRoward4MVP," you shall always be the key to the information superhighway.
Oh and for those who care, Pedro Gomez is at today's game, and you can't prove he isn't. Jon Heyman is here too, sitting three seats down from me in the press box.  Inasmuch as we here at HBT are about to introduce a new Mystery Blogger, it's quite appropriate for the master of the Mystery Team to be on site.
That's serious by the way: come back here at noon. We have a genuine Mystery Blogger to unveil.