Sorry I'm all photo crazy today. Just really jazzed to be where baseball is happening and I feel more like soaking it in than thinking too hard about it.  Here's something to soak in: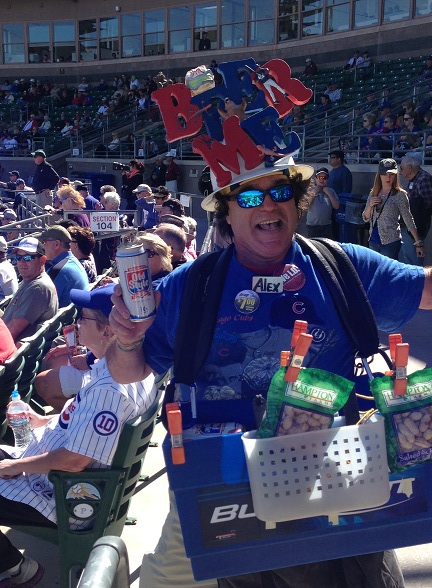 Seven bucks for an Old Style? Yikes. He told me I "looked like an Old Style Man." I politely declined. I mean, I'm not above snagging a beer while I'm at the park — it's not like I'd take it up to the press box — but I'm not gonna start in with Old Styles three innings in to my first spring training game when I'm running a monster sleep deficit.
Something else to soak in: Yasiel Puig's name auto-corrects on an iPhone to "Haskell Lying."  He also hit the crap out of this ball as I was walking along the concourse: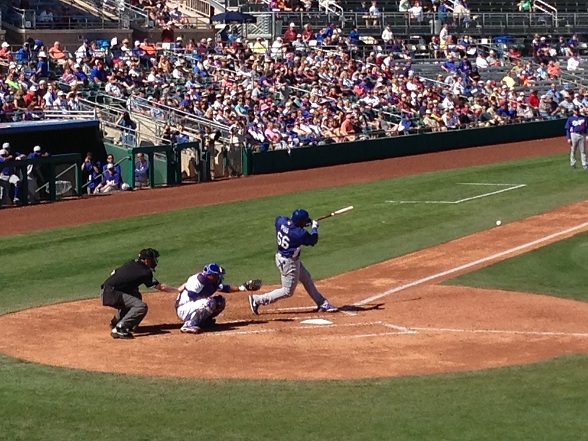 I'm really curious to see how Puig does. He hit .330/.430/.581 with 17 homers and a 39/49 K/BB ratio in 327 at-bats at age 19 in Cuba. Many are skeptical about how he projects — and obviously me watching two whole plate appearances from him today means nothing — but he could be a lot of fun.
Random: The Cubs wear their regular season uniforms for home spring training games. I like that a lot. Dress for the job you want. Look the part be the part. More teams should do it. And yes, this is coming from a guy who wears pajamas all day, but (a) I have the job I want; and (b) wearing pajamas is looking the part for this gig.
Also fun: I spent the first few innings in a seat up high along the third base line. Right above me was a party deck with some corporate types, out for a corporate outing at the old ball park. Overheard:
P.A. Announcer: "Now batting for the Cubs, number 12, Alfonso Soriano."
Man 1: Soriano. Why do I know that name?
Man 2: I think he used to play for the Yankees, right?
Man 1: Yeah. He's the Yankees second baseman. Or he was. A year or two ago, I think.
Man 2: Yeah.
High beer prices, less-than-plugged-in crowds. But I don't care a lick because I'm at a ballpark.
Now where's that Old Style guy? If I can get him down to $5, we may be able to do some business.