I landed in Phoenix just before 9:30 AM Mountain time, took the seemingly interminable bus ride to the rental car place and was met with an opportunity to see if NBC really appreciates me: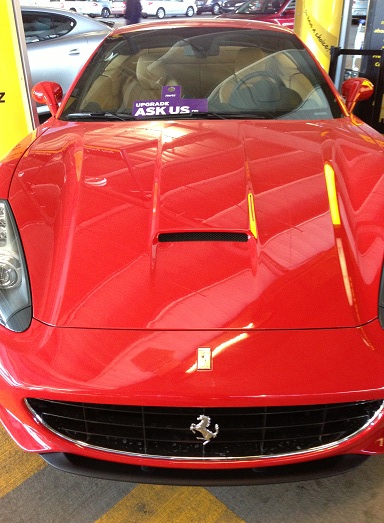 I asked if I could take the upgrade. So far no one has responded. I assume they're still thinking it over.
On to my hotel in Tempe to drop off my stuff and then grab some food at a little diner: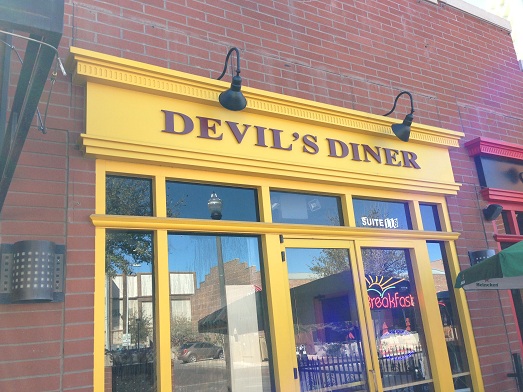 I mentioned a couple of weeks ago that, on doctor's orders, I've gone on a mostly carb-free diet. This place makes pancakes with bacon-infused batter. I was kinda good in that I got some veggie breakfast burrito and didn't eat all of the tortilla, but yeah, I'm probably gonna die in this place at some point over the next ten days.
On to Hohokam Park to check out the Dodgers and Cubs.
Today was sort of a lost day as far as real baseball reporter-like activity goes, as I wasn't able to get to the park at my usual 8 AM arrival time. This kept me from (a) getting into the clubhouse when the players were just hanging out; and (b) kept me from getting a good seat in the press box. This would be my view of the game if I sat up here for it:
No, I will not be sitting inside for it. Think I'm going to go camp out in the sun someplace and enjoy the game like God and Nature intended. By the way: that guy in front of me is Eric Stephen of True Blue LA.  We bloggers are taking over, yo.
Out into this beautiful park:
The Cubs are abandoning it for new digs next year. The Athletics will be taking it over. The Brewers, rumor has it, will then move into the A's place at Phoenix Municipal. The wheel goes round and round and each time it stops another old school spring training park goes down. At least if you consider Maryvale old school. I dunno. I'll say more about it when I'm there next week, but I like Maryvale and I don't care if it's in a neighborhood a lot of folks don't like to go to.
In other news, I'd like to hire these guys to do my yard work: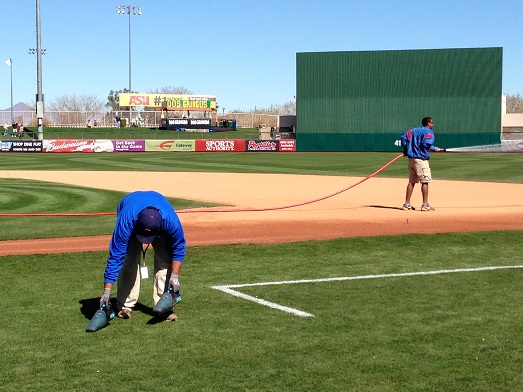 I used to make fun of my dad for being so obsessive about his lawn that he'd go pick specks out of it. These guys have freakin' Dustbusters. They're green, too. Cool.
Hey, Edwin Jackson! Can I have an autograph?
As soon as this picture was taken Jackson was traded three more times for reasons that are unclear.
Back inside where one learns that, even in spring training, major league prices reign supreme: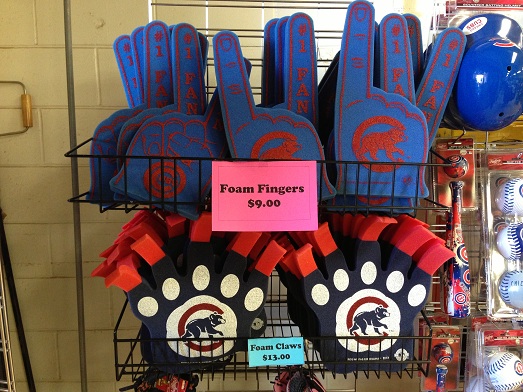 Those are total ripoffs. Everyone knows that foam fingers are cooler than foam claws. The pricing should be reversed.
Oh, and there is a ballgame today. Starts in a few short minutes. The lineups: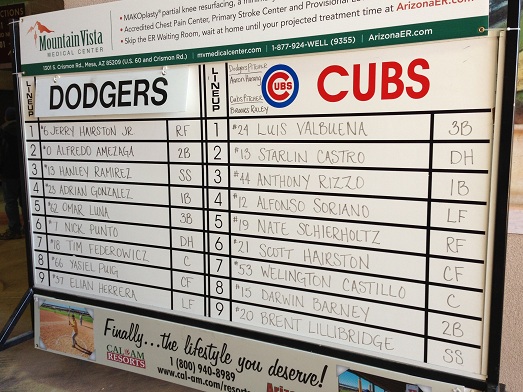 Nick Punto: designated hitter. Yup, it's spring training.
Talk at you later, y'all. There's baseball to watch.