I was just reading this profile on Ryan Howard over at Philly.com. It's your standard spring optimism piece. Howard feels way better now than last year and is ready to return to form. Nothing all that notable in the story.
But midway down the story, a poll appears: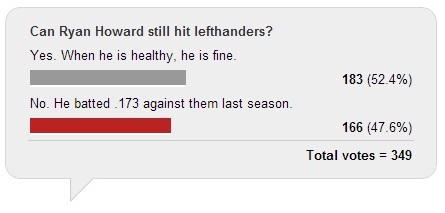 Internet polls are all pretty meaningless, especially the actual results. But this one is particularly astounding to me inasmuch as it treats something which is wholly empirical — whether or not Ryan Howard can hit lefties — as though it were a matter of opinion or belief. Which may not seem like a big deal, but when you think about it this is the exact reason why so much sports conversation is stupid.
For better or worse, people have been conditioned to think that their opinions and beliefs, no matter how loony they are, are just as valid as anyone's else's. So when one challenges a given opinion or belief, one understandably gets an extreme amount of pushback and intransigence. That's well and good when we're talking about a lot of opinions or beliefs. I believe that "Tonight's the Night" is the best Neil Young album. I don't care how many of you ninnies think "After the Gold Rush" is better, I'm simply not going to buy it and if you insist on it I'm ultimately gonna think poor things of you and ignore you. For your part, I hope you feel the same way about me in this respect.
But when someone treats something that is purely empirical as thought it were belief, that's the road to lunacy and ignorance.  No matter how big a Phillies fan you are and no matter how badly you want to see Ryan Howard take Clayton Kershaw downtown the next time they meet, it is inescapable — it is a matter of pure, immutable fact — that Ryan Howard has struggled mightily against lefties for his career and that he has gotten worse, not better, at hitting them as time has gone on. This is true whether he has been healthy or injured. With few, long ago exceptions, he has always been a liability against lefthanders.
Sports fans — and even a lot of sports writers — treat empirical things as though they were matters of belief. They believe Howard can hit lefties. They believe Jack Morris was the best pitcher of the 1980s. They believe that Michael Young's leadership and professionalism make him an MVP-caliber player. They believe that Derek Jeter is a good defensive shortstop.  And if someone says "he can't," "he wasn't," "it doesn't" and "he isn't," you're not just wrong, you're assailing one's belief system, and that makes you an awful person.
Empiricism vs. Belief. It's the core of a lot of political arguments. It's also the core of a lot of baseball arguments. If only we could all agree which things are matters of which, imagine how much better everyone would get along.