Local TV news in small towns is great. Every story, no matter how unrelated to the area, is tied in locally somehow. "Tsunami in the Pacific! Stay tuned to Action4 to see what that means for you in Central Ohio!"  It's the very essence of provincialism to look at something that has no connection to you but to stretch for connections.
But it's not limited to small town TV news. It happens in the biggest of cities too. The back page of today's New York Post: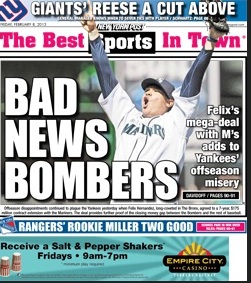 I haven't read the Ken Davidoff article that crazy headline teases, but I'm going to assume a guy as smart as him doesn't truly see the Hernandez story as bad news for the Yankees. How could it? Hernandez was not a free agent and there has never been a truly credible rumor that he was going to be traded there. If you asked Brian Cashman if the future of the Yankees hinged on them getting Felix Hernandez he'd look at you like you were an insane person.
Rather, this is pretty clearly an editorial diktat to make EVERYTHING about the Yankees if possible.  Or if impossible. Either way. And it feeds into the entitlement a certain brand of Yankees fan gets which is about the most tiresome thing in the world.
Oh, and then this pops up:
Reports #Diamondbacks sign Hill to 3-yr extension, removing free agent 2b fallback next offseason for those failing on Cano. #Yankees

— Joel Sherman (@Joelsherman1) February 8, 2013
Never change, New York Post. Never change.