I realize ESPN reader polls aren't scientific, but check this one out: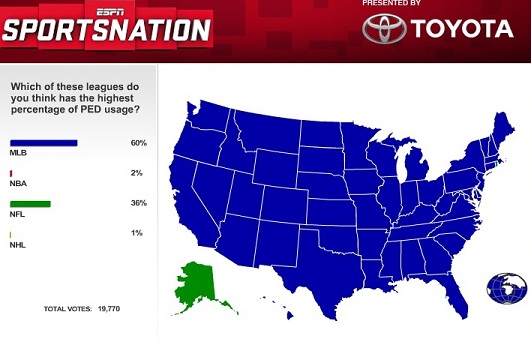 Baseball's confrontation with PEDs has been long and loud and public. It's the sport where people get hung up on the integrity of the record book way more than any other and where people get hung up on their relationship with the sport as a child more than any other, looking for heroes and purity and wallowing in more nostalgia.  Most importantly, in recent years, baseball has also had the most rigorous testing and enforcement program of all the major sports, leading to more positives, more discipline and more news stories. In light of that I understand how one might be tricked into thinking that baseball has the most widespread drug use.
That said: for people to actually think that that baseball has a bigger PED problem than football, and by such margins, is flippin' crazypants.
This is the hidden data problem, or some variation of it, in action. We see things when they happen. We don't see things when they don't happen. We don't see NFL players get busted for PEDs, so they must not be taking them, the thinking goes.