Yesterday we noted how the Ricketts family announced over the weekend that they'd be willing to foot the bill on dramatic renovations to Wrigley Field rather than ask for public dollars to do it. But — and it's no small but — they want restrictions regarding how they run the ballpark and when they can play games eased. More night games, more signage, scoreboards and, in all likelihood, blocking out the rooftops nearby.
Which will all be the subject of much debate going forward, obviously.  In the meantime, they have released conceptual sketches of what this major renovation might entail. And again, I must use the word dramatic: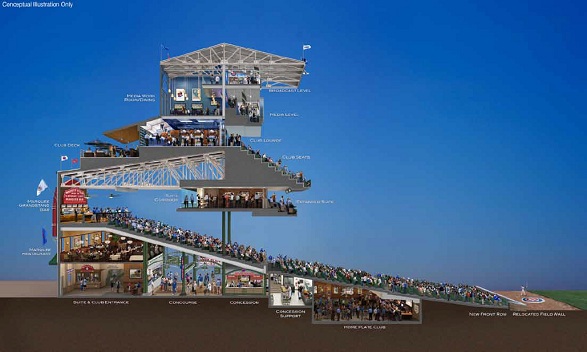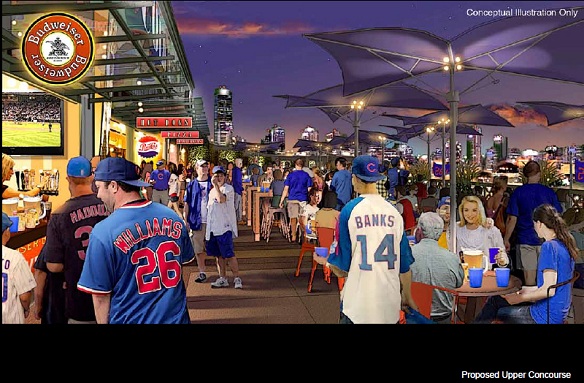 There are many others which you can over at Biz of Baseball.  As for the rundown of all that would be accomplished under the plan:
Addition of a rooftop patio;
Party decks in left and center field;
Expanded luxury suites;
New LED board in left field;
Jumbotron-like video screen;
Club lounge;
Restaurant where the old administrative offices used to be;
A much bigger clubhouse;
Batting tunnels near the dugouts;
A video room; and
A new weight room and a physical therapy/rehab center.
All of these things — especially the new player facilities — would greatly enhance old Wrigley.  And really, as long as the ivy, brick, scoreboard and location of the ballpark are kept more or less the same, I bet even the purists would get over it eventually. At least they should, because most of these changes are much-needed, either for revenue generation purposes or for simply bringing Wrigley up to the standards of modern ballparks.
The big fights will come from the bar owners who don't want to lose business to in-park bars and clubs and to night games which limit their high-traffic hours. We'll see how that goes, but it's hard to beat a combination of (a) private funding; (b) modernization; and (c) maintaining the overall feel of the old park.