The Dodgers aren't just putting insane amounts of money into their on-field product. They are also making some changes to Dodger Stadium.
According to Bill Shaikin of the Los Angeles Times, Dodgers part-owner Magic Johnson said during Hyun-Jin Ryu's press conference this afternoon that the team is putting $100 million into stadium renovations this winter. And they are already hard at work.
Courtesy of Eric Stephen of the excellent True Blue LA, below is a look at some construction on the third base side. You can see more of Stephen's shots here.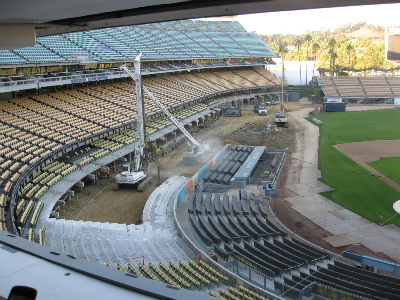 Wow. Dodgers president Stan Kasten said back in October that they were planning to renovate both clubhouses and the Dodgers' indoor batting cage and add a batting cage for the visiting team. They also plan to improve the infrastructure of the stadium. Bigger changes are likely in store in the years ahead.