I had the pleasure of meeting Ben Gellman-Chomsky for the first time at last year's Winter Meetings in Dallas. Ben is a play-by-play guy, who broadcast games for the Hickory Crawdads of the Sally League in 2011 and the Hudson Valley Renegades of the New York-Penn League this past season. He's a nice kid. Originally from Columbus, too.
I caught up with him last night and, as is often the case with young up-and-comers like Ben, he's looking for his next gig at the Winter Meetings.  Given what I know of him — he has a good voice, is smart, knows the game and he's funny — I think he'll do fine.  But every little bit helps in the competitive world of sports broadcasting, and Ben has a little bit that, if the world is just and fair, that should help: a killer business card.
The front is pretty normal:
But check out the awesome back: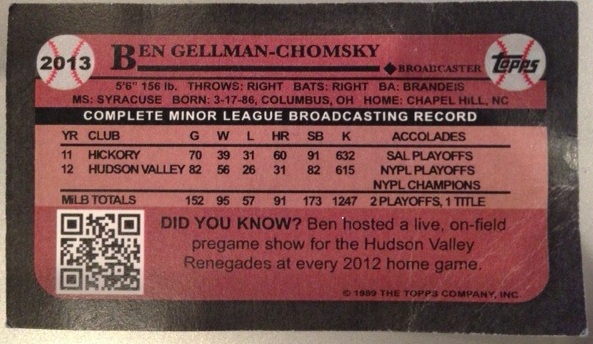 Yeah, that's a 1989 Topps back. I recognized it the second he gave it to me. Ben is only 26 so he himself was too young to really appreciate that card, but I bet he's banking on the old men who make hiring decisions in baseball to see that card and have an instant, positive reaction. I sure did.
Good luck, Ben. Although with your savvy, you probably don't need it.