UPDATE: Ken Rosenthal of FOXSports.com now says Upton is "in agreement" with the Braves on a deal, pending a physical exam.
UPDATE #2: David O'Brien of the Atlanta Journal Constitution indicates that it'll be a five- or six-year contract and says there probably won't be an official announcement until tomorrow.
UPDATE #3: Bob Nightengale of USA Today reports that it's a five-year deal worth at least $70 million.
UPDATE #4: Nothing is official yet, but it might as well be after Upton changed his Twitter avatar to the following: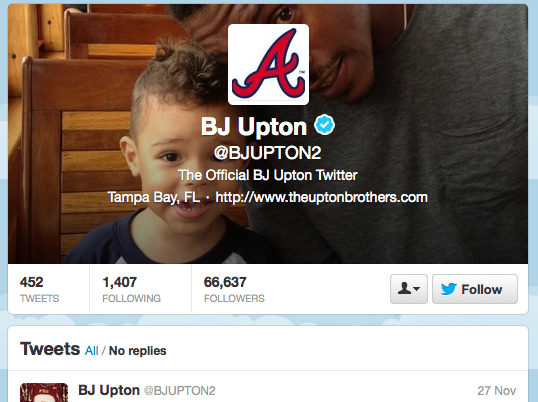 ==========
"In serious talks" seems to be the buzz phrase of this offseason–see here and here, among others–and the latest usage is Jerry Crasnick of ESPN.com reporting that free agent center fielder B.J. Upton is "in serious talks" with the Braves on a multi-year contract.
A few days ago reports had Upton looking to decide on his new team by the end of this week and the teams most often linked to him have been the Braves and Phillies.
Upton has posted some terrible on-base percentages in recent years, but he's a very young free agent at 28 and combines 25-homer power with 40-steal speed and excellent range defensively in center field. With the Braves he'd be replacing Michael Bourn, who's also a free agent after one-and-a-half seasons in Atlanta.