After 46 years of being known simply as the Reading Phillies, the longest affiliation in the minor leagues, the Phillies' Double-A affiliate will have a new name for 2013 and beyond. According to Benjamin Hill of MLB.com, the team announced today that they will be called the Reading Fightin Phils. Of course, along with a new name comes new uniforms…and a new logo.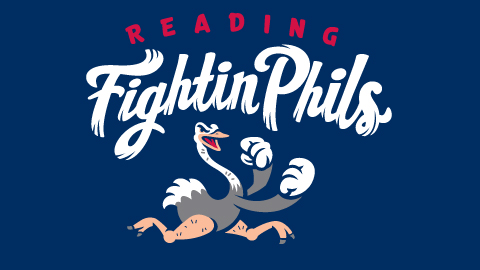 Yes, it's an ostrich. This may seem like an odd choice on the surface, but it's a nod to their popular Crazy Hot Dog Vendor, who rides a stuffed ostrich onto the field and throws hot dogs into the stands. Here he is in action. The name change has been met with protest and anger in some circles, but Fightin Phils general manager Scott Hunsicker explained that the rebranding effort is about attracting young fans and forging their own identity.
"There's a lot of fun to be had with a large flightless bird, in the same way that the [Lehigh Valley] IronPigs and [Richmond] Flying Squirrels have a lot of fun with their names," Fightin Phils general manager Scott Hunsicker said in a telephone conversation prior to the official announcement. "It's the sort of thing that can get families excited and kids excited, with the goal being to get more kids to fall in love with baseball."
Oh, and for their parents to purchase all the new merchandise.