After a sporting goods store leaked the Astros new logo over the weekend, Major League Baseball apologized to the team for allowing its merchandise out prematurely.  But it happened again. This time it was Major League Baseball which did it on their website with the players' roster cards: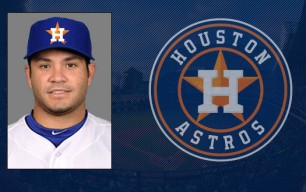 Oops.
I imagine another apology is forthcoming, but at this point the cat is out of the bag and the Astros' official unveiling of the new gear this Friday evening is going to be somewhat anticlimactic.
UPDATE: MLB just tweeted this. It's rather nonsensical:
MLB Advanced Media, in advance of super-storm Sandy, inadvertently posted photos of players in their new uniforms on @astros.com bio pages.

— MLB (@MLB) October 30, 2012
How do storm preparations cause this to happen?