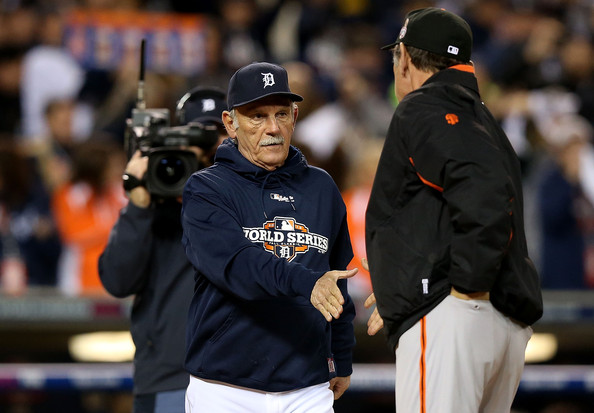 Here are the lineups for Game 4 of the World Series between the Giants and Tigers in Detroit:
SAN FRANCISCO GIANTS              DETROIT TIGERS
1. Angel Pagan, CF              1. Austin Jackson, CF
2. Marco Scutaro, 2B            2. Quintin Berry, LF
3. Pablo Sandoval, 3B           3. Miguel Cabrera, 3B
4. Buster Posey, C              4. Prince Fielder, 1B
5. Hunter Pence, RF             5. Delmon Young, DH
6. Brandon Belt, 1B             6. Andy Dirks, RF
7. Gregor Blanco, LF            7. Jhonny Peralta, SS
8. Ryan Theriot, DH             8. Gerald Laird, C
9. Brandon Crawford, SS         9. Omar Infante, 2B

SP Matt Cain, RH                SP Max Scherzer, RH
The Giants are making only one change, substituting Theriot for Hector Sanchez at designated hitter. Sanchez finished 0-for-4 with three strikeouts in Saturday night's 2-0 Game 3 victory. Theriot isn't a much better option, but he'll probably drive in four runs the way things are going this October for San Francisco.
The Tigers will stick with Berry in the No. 2 hole despite his poor at-bats throughout this postseason. Alex Avila was in the starting lineup initially but had to be scratched due to lingering soreness in his right wrist.
Game 4 is being broadcast on FOX by Joe Buck and Tim McCarver. First pitch is set for 8:07 p.m. ET.