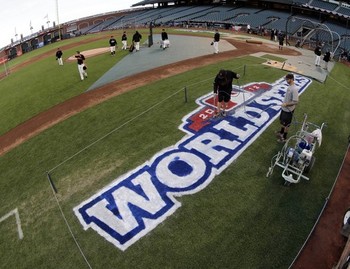 Here are the lineups for Game 1 of the World Series between the Tigers and Giants, in San Francisco:
DETROIT TIGERS                   SAN FRANCISCO GIANTS
1. Austin Jackson, CF            1. Angel Pagan, CF
2. Omar Infante, 2B              2. Marco Scutaro, 2B
3. Miguel Cabrera, 3B            3. Pablo Sandoval, 3B
4. Prince Fielder, 1B            4. Buster Posey, C
5. Delmon Young, LF              5. Hunter Pence, RF
6. Jhonny Peralta, SS            6. Brandon Belt, 1B
7. Avisail Garcia, RF            7. Gregor Blanco, LF
8. Alex Avila, C                 8. Brandon Crawford, SS
9. Justin Verlander, SP          9. Barry Zito, SP
Playing under NL rules takes the designated hitter away from the Tigers, so manager Jim Leyland has Delmon Young in left field and Andy Dirks on the bench. Young is terrible defensively, but came through offensively in the ALCS and having him in the lineup against left-hander Barry Zito makes sense. Leyland has typically benched Alex Avila in favor of Gerald Laird versus lefties, but Avila is behind the plate tonight catching Justin Verlander.
Bruce Bochy is going with his standard lineup versus right-handed pitching, which includes Buster Posey catching and cleaning up, Pablo Sandoval batting in front of him, and Gregor Blanco in left field while Melky Cabrera remains absent from the playoff roster.