SAN FRANCISCO — Because of personal weekend travel on top of World Series travel, I wake up this morning in the third different time zone in the space of four days. I've wrestled American Airlines to something close to a draw — they may not have given me what I wanted for all of my trouble but I am certain now, based on their disdain for their customers, that I will outlive them — and I am staring six days of World Series coverage right between the eyes.  I may be tired, but I am winning.
But who is winning this World Series?  Such bets are for suckers. A proposition that, if we didn't know before this month, we certainly know after seeing the improbable occur again and again this postseason.
As late as mid-September the Tigers looked like they'd be golfing right now. An 88-win team which seems remarkably well-constructed for the playoffs. A team which is going to start Delmon Young in the vast expanses of AT&T Park's left field tonight and presumably tomorrow and who counts Phil Coke of all people their most reliable reliever is favored by the people who are supposed to know these things.
For personal reasons I watched the Tigers more this year than I had since I was 11, and not one time until they started sawing off Yankees bats in the ALCS did I look at them and say "yes, that's your probable World Series champ." But I am inclined to say it now. It's a mild inclination, one I may forget as soon as pitches begin to be thrown in anger tonight, but an inclination all the same.
But what of these Giants?  One thing noted by several smart people in the past 24 hours is that while they may be playing cardiac kids again this year and may have some flaws of their won, they match up well with these Tigers. The Giants don't strike out a lot and don't hit a lot of homers which means a lot of chances for opposing defenders to make fools out of themselves.  The Tigers, of course, have a defense that could very well be exposed in such an instance. Or maybe they could just defy the predispositions of Giants hitters and strike everyone out like they've been doing a lot of lately. I don't know, but we kind of have a neat matchup in that regard.
Intangibles are pure rot, but if fan enthusiasm has any bearing on this sort of thing, the Giants should actually be your favorites. When I got off the plane at SFO, this was the first thing I saw in the airport: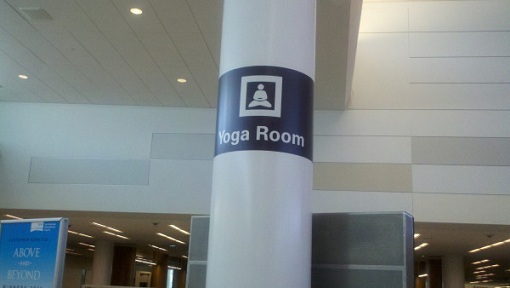 OK, that has nothing to do with anything apart from my never-ending wonder at how on-the-nose Californian this city can be.  But the point here is that I have been here before, several times over the past 15 or 20 years thanks to many friends calling it home, and never in all of those visits have I seen so much conspicuous Giants gear festooning the place.
I'm sure it was nutso in 2010 as well, but you can't swing a dead cat without hitting an old person wearing a Giants cap, a young person rocking Giants shirt, a bus flashing "Go Giants" from its route sign and every bar, restaurant, bodega and coffee shop sporting a banner or a sign (a couple of them still say "Beat L.A.," but old habits die hard). And it's not just in SoMa where I'm staying or right over in front of the park. It's everywhere. Not long after I hit town last night I hopped a train down to have dinner with a friend in Belmont and the orange an black was flying high down there as well.
There's an electricity in this city as I awake this morning. A bursting-at-the-seams energy that is poised to explode when Barry Zito — Barry Zito?! — throws the first pitch of Game 1 of the 2012 World Series. I'm assuming that electricity exists in other cities just before the World Series begins too, but this is my first World Series and I find it a remarkable departure from the norm.
And I kind of love it.