SAN FRANCISCO — Well, not quite Oakland, but pretty close. My seats in the auxiliary press box for the next two nights: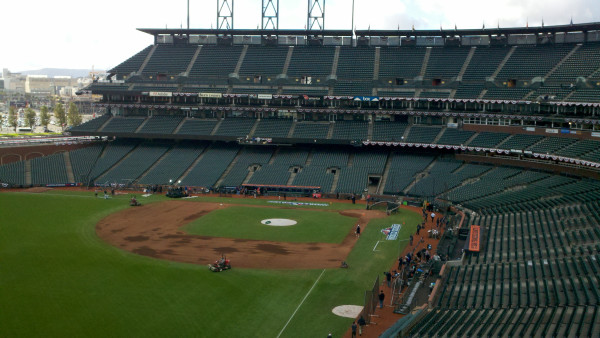 Not that I'm complaining one bit. The World Series is a hot, hot ticket, and I'm just happy to be here. As of right now, standing room only is going for $300. When I was walking to the park from hotel a little while ago I stopped for a light on the corner of Third and King and two scalpers were complaining that they couldn't find anything for under $400. Detroit is no different, as I'm told that prices for Saturday's game are starting at $350 for standing room. I don't tend to pay too close attention to this sort of thing, but I don't recall prices being so insane for World Series tickets the past couple of years.
It's several hours before the game, of course, but the energy here is already building. There are bomb squad dogs sniffing the perimeter of the place and inside people are stocking the luxury boxes with candy and goodies and sweets. Lucky SOBs.
I'm going to go bop around, see some sights and get into trouble.  Follow me on Twitter at @CraigCalcaterra for random pictures and weirdness not substantial enough for a real post.