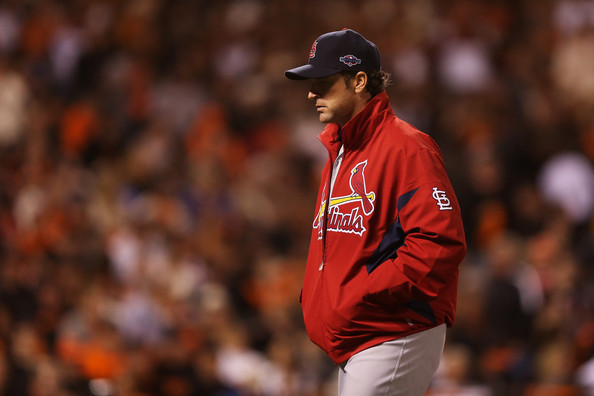 Here are the lineups for Game 6 of the NLCS between the Cardinals and Giants in San Francisco:
ST. LOUIS CARDINALS           SAN FRANCISCO GIANTS
1. Jon Jay, CF                1. Angel Pagan, CF
2. Carlos Beltran, RF         2. Marco Scutaro, 2B
3. Matt Holliday, LF          3. Pablo Sandoval, 3B
4. Allen Craig, 1B            4. Buster Posey, C
5. Yadier Molina, C           5. Hunter Pence, RF
6. David Freese, 3B           6. Brandon Belt, 1B
7. Daniel Descalso, 2B        7. Gregor Blanco, LF
8. Pete Kozma, SS             8. Brandon Crawford, SS
9. Chris Carpenter, RHP       9. Ryan Vogelsong, RHP
The Cardinals will feature their standard batting order with Beltran's knee holding strong.
For the Giants, it's the exact same lineup from Friday night's Game 5 victory in St. Louis. They moved Pence out of the No. 5 spot in Game 4 but wound up losing and have decided against reverting back to that look.
This NLCS Game 6 will be broadcast on FOX. First pitch is scheduled for 7:45 p.m. ET.